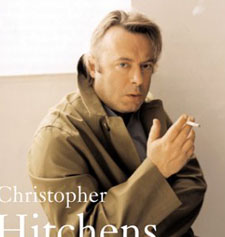 One of the practices Catholics engage in that really infuriates the world is that we take Christ literally when he says,
"You have heard that it was said, 'You shall love your neighbor and hate your enemy.' But I say to you, love your enemies, and pray for those who persecute you, that you may be children of your heavenly Father, for he makes his sun rise on the bad and the good, and causes rain to fall on the just and the unjust.

For if you love those who love you, what recompense will you have? Do not the tax collectors do the same?

And if you greet your brothers only, what is unusual about that? Do not the pagans do the same?

So be perfect, just as your heavenly Father is perfect.
And so we pray for the repose of the soul of Christopher Hitchens. He was enigmatic, and had depth of soul. Gifted writer, militant atheist, enemy of Christianity, brilliant debater, wordsmith extraordinaire, and secular humanist who endured "waterboarding" (to prove that it indeed is torture), he was one of God's children and will be missed.
Pat Archbold has a piece worth reading that marks his passing well. And his post helps explain why Catholics will pray for the repose of the soul of Christopher Hitchens. Because infuriating the world is something Catholics have been doing for over 2011 years.
There is no sense in stopping now. Besides, Our King's order still stands.
Once you're gone, you can't come back;
when you're out of the blue, and into the black.
Tell it, Neil.
Update: Peter Hitchens remembers his brother.