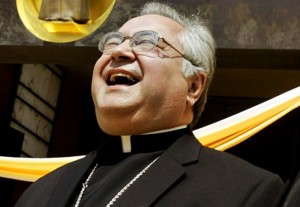 So you wanted to just be a simple Catholic man. One who tries to walk the Way, as difficult as it is, and mind your own business. Mind the planks in your own eye, and ignore the mote in the eyes of others. But you like to keep up on spiritual stuff, and you appreciate the encouragement you get from others making the same solitary slog to heaven as you are.
You find many interesting posts over on New Advent, for example, that help you along in this matter. And sometimes (quarterly, it seems), splashing across the marquee, there is something weird and scandalous, like this headline:
California Churchquake: San Diego gets new Coadjutor; L.A. Auxiliary Bishop resigns after revealing he secretly fathered children.
I'll give you the link later, because I do want you to go read the juicy latest news of another casualty in the War on Sin. It's a solemn, somber, and sobering wake-up call to remember the soaring body count of fallen priests that has mounted in this conflict that has raged since Our Lord ascended into Heaven.
Here's the link from the CNS News Blog. The fact that I've never heard of Bishop Zavala is meaningless. He's never heard of me either. Deacon Greg Kandra remembers him fondly. Rocco Palmo, naturally, has all the skinny.
I lament that he lived a lie for so long. I am saddened that his children lived with an absentee dad for so long. I am thankful that he came clean, and resigned. I pray for him, and for the family involved. I can forgive all of that, as today's readings from St. John's letters remind us.
But here's what his superior, Archbishop Gomez, said that Joe Six-Pack just does not understand,
"The archdiocese has reached out to the mother and children to provide spiritual care as well as funding to assist the children with college costs.
Whaat? Ok, spiritual care? Check. But college costs too? Funded unwittingly by the parishioners of Archdiocese of Los Angeles? That just seems unjustified, and very golden parachute-like, to me.
I mean, did Bishop Zavala die, or something? He's not too old (60!) to go to truck-driving school, or become a teacher, is he? The woman involved hasn't been widowed, or the children orphaned…right? Get married, go to work, and provide for your children, sir. That's what Dad's and husbands do.
Why Archbishop Zavala wants to also provide college tuition support is beyond me. Then again, maybe it's because groups like Children of Catholic Priests are threatening legal action? Joe Six-Pack understands render unto Caesar, and rendering unto God. He understands voluntary charity too. But when Joe renders unto God, he reckoned he wouldn't be footing the college bills of the children of former Catholic priests. Just goes to show how naive I am.
Never mind then. Instead of turning this little news item into a full-blown "crisis of faith" train wreck, I think I'll just go back to work so I can try to fund my own children's looming future college costs, and the current costs for food, clothing, and shelter too. Sheesh.
UPDATE: Father Joseph Jenkins proctors a Discussion About Priestly Service, Scandal, & the Church.