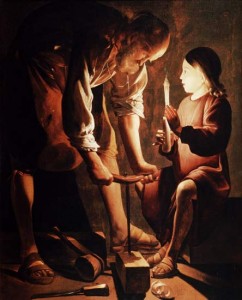 Dear St. Joseph:
It's your feast day in the Church today, and even if you don't want to be bothered, because you're a real worker bee, lots of folks are going to extol your virtues ad nauseum today. None of us are sure what those are though, so you've kind of become the "fill in the blank" saint for all that is true, good, and solid, if not quite beautiful.
That's because you never said anything, see, but you did all the right things. I'm not like you much at all, because though I've done a lot of things, most of them weren't "right," and usually I'm not very quiet about any of them either.
As fatherhood goes, the method that many love about you, you know, the leading by example thing? That's overrated, and pretty ineffective, at least as I've come to see. I find that I'm always explaining things to my children, and telling them to do things they don't want to do, all the time. I'm not sure if that was your experience with your own natural children (?) or with your step-child Jesus.
If it was, I wish you'd say something to us dads out here. Did Jesus ever put you through the wringer? I mean besides that one time when he was twelve and stayed back at the temple in Jersusalem? I bet you could tell us some stories about what transpired between that day and the day Jesus turned water into wine at Cana.
Of course you may not have witnessed that event either. For all we know, you were working on that day, or dead. None of us know if you were old, or young. None of us know how you died, when, or where, but I reckon it was probably while you were "on the job." Your life is a mystery, and so we can make it be anything we want it to be. And though you are considered by many to be the patron saint of those who lead quiet lives of love and service, you just might also be the patron saint of all those whose lives details remain better left unsaid.
Oh, the stuff you have seen written about you must crack you up, or leave you scratching your head, sometimes, huh? I admire men like you, and not just because you worked with your hands. You worked with your hands
and actually made a living at it.
That is what's impressive. And you did it while your country was invaded and oppressed to boot? You had mouths to feed and a family to clothe and if I have anything in common with you at all, it is that same call to duty that I feel to provide for my own family, even when I don't particularly feel like doing so means much in the grand scheme of things.
But of course, in the scheme of things is where doing so is so important. So maybe I have this in common with you too: I'm here as a presence in my family due to the grace of God, and I recognize this as a truth. For some strange reason, known only to God, I have been called to be a husband and a father. And though I probably have nothing else in common with you whatsoever, like you, I intend to do what you did, through thick, and thin. I intend to provide for my family, and be here for my children and their mother until God calls me home.
Because on this day in which we honor your sainthood, we acknowlege the great mystery of fatherhood, of work, and of the importance of being a good husband. If I had to to sum up your life and example in two words it would be these: Being There. That is the virtue that you exemplify to me, as a follower of God, as a husband, as a father, a worker, and a friend. I reckon that's why you're the patron of the universal Church.
One last thing. When you have a moment, pray for me, will you? I'd be much obliged.