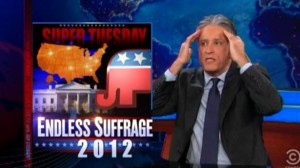 when a wannabe "Dark Lord" runs for President.  I dare you not to smile.
*Disclaimer! Please remove all liquids from the vicinity of your electronic devices before viewing the following. Roll clip,
Was he told by a wizard that if he doesn't stay in the presidential race the world will fall into darkness?
Heh! Jon evidently doesn't know the POWER of the Dark Side. That's all we have about the primary elections in Extremistan today.