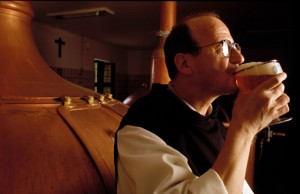 It's been that way for a while with the Monks of New Skete. Who are these guys? Here's what their website says,
In 1966 a small group of Byzantine-Rite Franciscans established a monastic community in northwestern Pennsylvania. Today, the monks reside in their permanent home east of Cambridge, New York, close to the Vermont border. It is here that the monks have, for more than 40 years, nurtured their deep love for and spiritual connection with dogs, and developed their expertise in dog training and breeding.
My former blogging partner, Allison Salerno, wrote a post about how their book helped her out once. My wife and I read it too. And WKRN did a little story about them last summer. Check it out,
Monks know a lot, about a lot things. Like beer for instance (one of my favorite subjects) and cheese.
This looks like a book I need to read, thanks to Madeline Scherb. A Taste of Heaven: A Guide to Food and Drink Made by Monks and Nuns
Three cheers for monasteries!
UPDATE: Julie Davis sends along a review of A Taster of Heaven. Cha-ching!