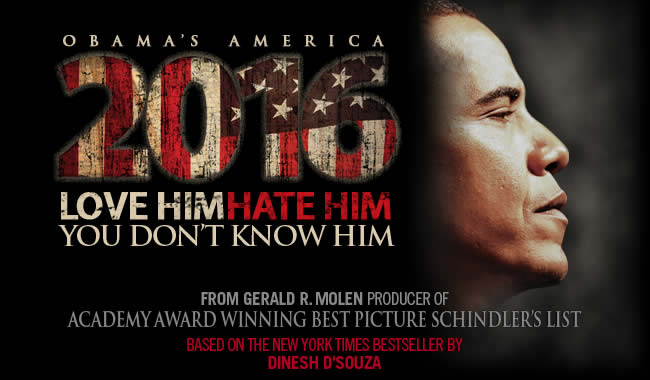 Dinesh D'Souza has an idea. And he has a film coming out soon wherein he hopes to explain the current Presidents' vision for the future of America.
I've always admired D'Souza since bumping into his work while I was trying to get into UCLA.  I had heard of him, and his book Illiberal Education, while I was channel surfing and landed on his appearance on C-SPAN's book review program way back in 1991.  I lost track of him after I graduated, as I had more important things to attend to (like start a new career and a family, etc.).
He came back onto my radar screen in 2010 when he was named  President of The King's College in NYC. I seem to remember that New Advent shared a number of posts about this appointment because he was a Catholic, or at least had been one. Joe Carter, an Evangelical who writes over at First Things, noted that he thought D'Souza wasn't a Catholic at the time, backed up by the thoughts of my Patheos blog neighbor Francis Beckwith.
As a result, I learned that D'Souza, whether he was a good Catholic, bad Catholic, or a Protestant, was the kind of guy who was confident enough in his faith to debate the likes of Christopher Hitchens. And he did so in the tradition of G.K. Chesterton, who debated, and befriended, atheists like George Bernard Shaw (who coined the term "the Chesterbelloc" to describe the deep friendship, bordering on partnership, between Chesterton and his fast friend Hilaire Belloc) with wit, charity, and absolutely without rancor.
Fast forward to this morning, when I learned about the movie coming out this summer. Actually, it's already playing in a few select theaters in Texas, Tennessee, and Montana.
According to the Hollywood Reporter
, it  opened to a standing room only crowd back on July 15th, with folks even sitting in the aisles. The film is based on D'Souza's New York Times bestseller,
The Roots of Obama's Rage,
a book
which I have not read, as I've been too busy helping get the word out about the HHS Mandate battle to notice anything
but
the current President's rage against the Catholic Church.
And so I present to you the following clip of D'Souza speaking to the Conservative Political Action Conference (CPAC) that starts off with the trailer to the film 2016: Obama's America. The film has some solid filmaker chops, as Gerald R. Molen, producer of films you've heard of (Rain Man, Jurassic Park, Schindler's List, and others) is the producer. You may even recognize Jerry as the park veterinarian (roll clip)ministering to the sick triceratops in Jurassic Park.
So without further ado, I turn this post over to a video from this years' CPAC meeting that begins with the trailer for 2016: Obama's America, followed up by a short speech by Dr. D'Souza, who took the podium after an appearance by Governor Bobby Jindal, whom was mentioned this morning by my other neighbor, Deacon Greg Kandra.
You can learn more about the film at 2016themovie.com. You may also find D'Souza's article on Christianity at the Huffington Post to be of interest as well.