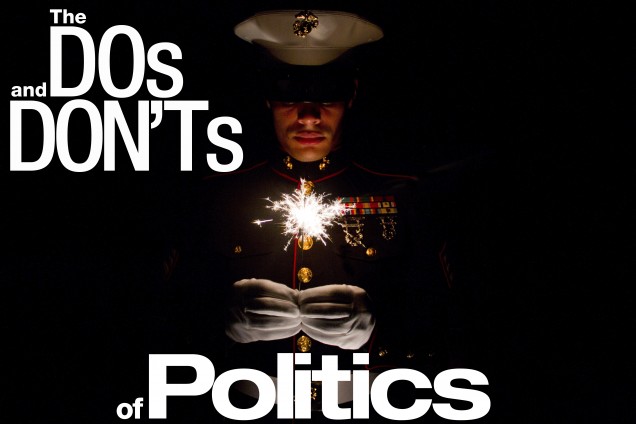 In all the years I've sat in pews in the Catholic Church (eighteen as a non-Catholic, and four as a Catholic), I've never heard any partisan political words uttered by a parish priest. Maybe I wasn't paying close enough attention, but I don't think that is the case. Here's the reason why.
A few days back my blog neighbor, Deacon Greg Kandra, shared a post on his blog entitled On Priests and Political Activism. With it he shared a few pertinent facts that remind us that although all the rest of our Facebook friends are bombarding us with political posts left, and right (pun intended, and as if they could change our minds), we really shouldn't be seeing any such silliness coming from a Catholic priest.
Which makes posts like these a bit awkward.
You see, there are rules of engagement regarding the priesthood and the political realm, as Deacon Greg's post makes clear. The same holds true for deacons, though with the permission of their bishop, they have a little more leeway. But generally, for those holding any grade of Holy Orders, the boundaries for political behavior runs along the lines of "That way==>> there be dragons. Stay away!"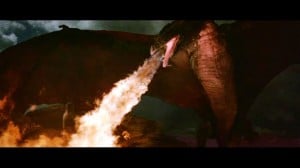 Because the bishops are pretty clear on the rules and the Internal Revenue Service is too. You see, tax law prohibits priests representing parishes or Church organizations, or 501(c)(3) non-profit corporations, to endorse or attack any candidate or party by name. Here's an example from the USSCB document section marked Individual Political Campaign Activity,
Rating Candidates. The rating of candidates for character, experience and professional ability, even on a non-partisan basis, violates the political campaign intervention prohibition. The rating of candidates based on their agreement with a Catholic organization's positions or the labeling of candidates as pro-life or anti-family or by using symbols or signs, likewise violates the political campaign intervention prohibition. [See: Rev. Rul. 67-71, 196701 C.B. 125 [rating candidates for school board]; G.C.M. 39441 (September 28, 1985); Association of the Bar of the City of New York v. Commissioner, 858 F.2d 876 (2d Cir. 1988), cert. denied, 109 S.Ct. 1768 (1989).]
Crystal isn't much clearer than that.
I was chatting this afternoon with my blogfather, Webster Bull and at one point, he mused that I must enjoy discussing politics. But I disagreed. Truth be told, I don't. It's just that lately, what with the ongoing HHS Mandate power grab, I've felt compelled to say something and do something in the political realm. It's good to be a civilian, see. But talking politics isn't in my blood, nor is it something that I learned in the culture where my formative adult years were spent. Which brings me to the military analogy promised in the title above.
Just like how those who hold any grade of Holy Orders need to steer clear of partisan politics, so too do folks serving in the military. My favorite semi-monastic secular order, the United States Marine Corps, provides the proof of this statement over on their blog. Truth be told, it's a little more liberal than what priests are allowed.
Every few years Marines and other service members have the opportunity to support their favorite political candidate by voting. As important as it is to vote, Marines also need to know what they can and can't do in politics.

The Department of Defense has a longstanding, well-defined policy regarding political campaigns and elections to avoid the perception of DoD sponsorship, approval or endorsement of any political candidate, campaign or cause. The department encourages service members to fulfill the civic obligation to vote, but makes clear members of the Armed Forces on active duty should not engage in partisan political activities.

Below is a list of what service members can and cannot do each election year. This list is not all-inclusive.

Remember, supporting a candidate is ok but endorsing one is not — not even on Facebook.
Once again, the similarities between the Church Militant, and the military are made apparent. Any questions? Go check out the DoD memo for clarification.
Semper Fidelis