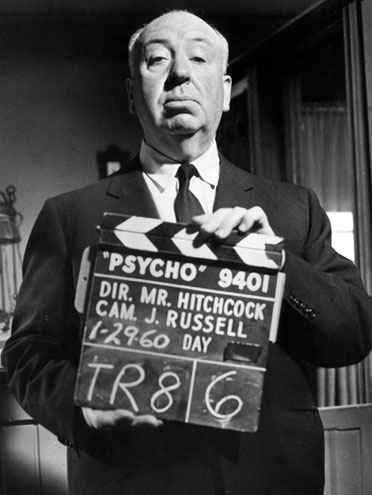 Given that Alfred Hitchcocks' life has been in the news of late, what with the film Hitchcock  hitting the theaters, I was happy to learn that he returned to the Catholic faith of his youth (if he strayed), and died in the resting arms of the Church.
This touching story, told by Fr. Mark Henninger, SJ, appeared in the Wall Street Journal yesterday. It's an eye-opening eyewitness account of Alfred Hitchcock, fellow Catholic.
I remember as a young boy watching the black-and-white "Alfred Hitchcock Presents" on TV and being enthralled from the start by the simple nine-stroke line-drawing caricature of the famed movie director's rotund profile. The mischievous theme music set the mood as Hitchcock appeared in silhouette from the right edge of the screen, and then walked into the center replacing the caricature. "Good evening." There followed his droll introductions, so unlike anything else on television.

Such childhood emotions came over me again when in early 1980 I entered his home in Bel Air to see him dozing in a chair in a corner of his living room, dressed in jet-black pajamas.

At the time, I was a graduate student in philosophy at UCLA, and I was (and remain) a Jesuit priest. A fellow priest, Tom Sullivan, who knew Hitchcock, said one Thursday that the next day he was going over to hear Hitchcock's confession. Tom asked whether on Saturday afternoon I would accompany him to celebrate a Mass in Hitchcock's house.

I was dumbfounded, but of course said yes. On that Saturday, when we found Hitchcock asleep in the living room, Tom gently shook him. Hitchcock awoke, looked up and kissed Tom's hand, thanking him.

Tom said, "Hitch, this is Mark Henninger, a young priest from Cleveland."

"Cleveland?" Hitchcock said. "Disgraceful!"

After we chatted for a while, we all crossed from the living room through a breezeway to his study, and there, with his wife, Alma, we celebrated a quiet Mass. Across from me were the bound volumes of his movie scripts, "The Birds," "Psycho," "North by Northwest" and others—a great distraction. Hitchcock had been away from the church for some time, and he answered the responses in Latin the old way. But the most remarkable sight was that after receiving communion, he silently cried, tears rolling down his huge cheeks.
Read the whole, beautiful, story.
It's always heartening to me to learn of folks who have left the faith and then returned to it like grateful children, reunited with a long lost loved one who is Christ the Lord. Remember Napoleon Bonoparte?
That's how it feels to me too, anyway, and I'm glad to learn that Alfred Hitchcock may have felt the same way.
I just might splurge and take in a movie after celebrating the Solemnity of the Immaculate Conception.
(H/T Fr. James Martin, SJ)