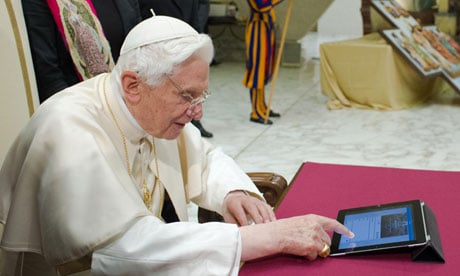 News like this always makes me go, "Huh?" What part of the simple procedure to hand off the Twitter account to a successor am I missing here?
Turns out, this "news" is more akin to an "off sides," or a runner leaving the blocks before the pistol fires. Can you say, "stampede?"
CNN ran this story back on February 22, you see.
(CNN) — At the same time as Pope Benedict XVI leaves office on February 28, his Twitter presence as @Pontifexwill also come to an end, according to Vatican Radio.

The news may come as a sad blow to the more than 2 million people who've signed up to follow his tweets in nine languages since his account was launched with fanfare two-and-a-half months ago.

About 1.5 million of those people follow the English language feed, with nearly 700,000 following him in Spanish and just short of 335,000 in Italian. About 22,500 people follow @Pontifex in Latin.

The account will be closed to coincide with the 85-year-old pope's formal departure from office at 8 p.m. local time, Vatican Radio said.
But CNN was actually just following the herd of all the other digital bright lights out there, all referring to Vatican Radio. And the machine is still cranking out breathless stories of how the clueless Vatican is returning to the Dark Ages in shutting down @Pontifex. Like by MSN a few hours ago, Rumor: Pope's Twitter account to shut down this week.
Those wacky, Catholics!
Except this isn't the case. Vatican Radio put out this clarification back on February 23, but no one has bothered to report it.
(Vatican Radio) In response to numerous queries as to whether the Holy Father's twitter account will be permanently shut down following his resignation, Msgr. Paul Tighe, under-secretary of the Pontifical Council for Social Communications issued the following statement:

The Twitter account @pontifex was created for the exclusive use of the Pope.

@pontifex will be inactive during the interim period between the renouncement of Pope Benedict XVI and the election of his successor (sede vacante).

@pontifex will be available for use by the next Pope as he may wish.
Makes sense to me.
Let the conclave circus continue.