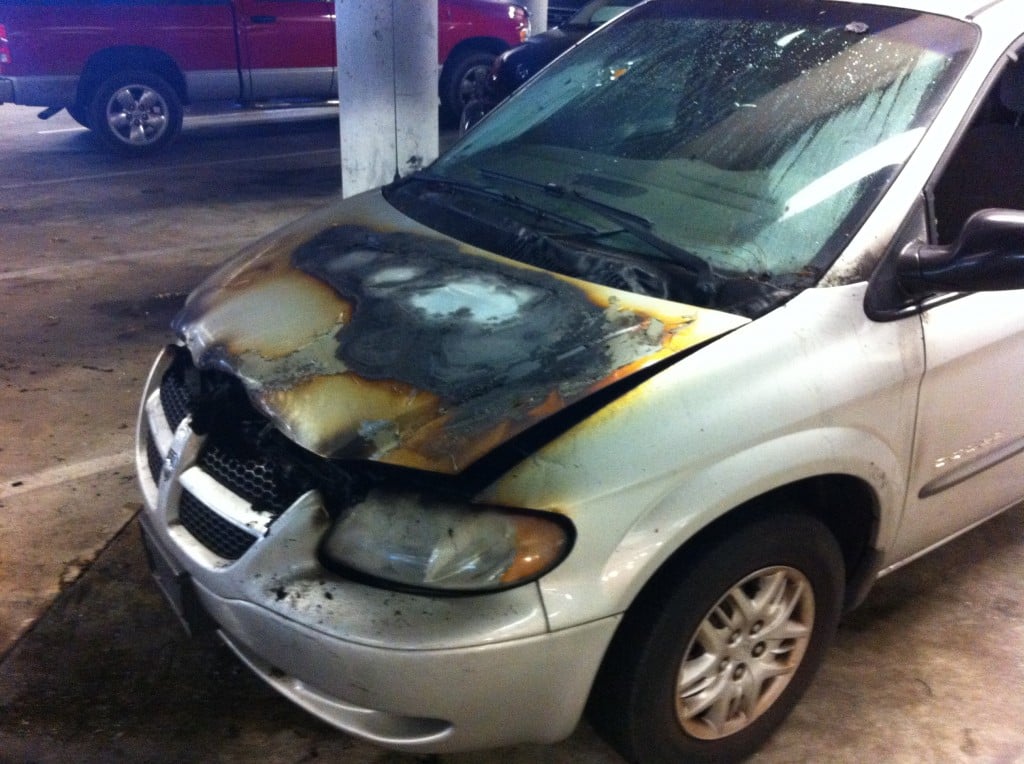 That strange phone number that called my cell phone that I didn't see until lunch time? That was the Fire Department. See, my van caught fire in the parking garage after I parked and hopped onto the shuttle bus to get to work this morning.
No warnings, no weird smells, no gauges portending ill, no indication that this would be the scene that awaited me in the parking garage after I got off work today. No molotov cocktails thrown, no zombie apocalypse, and no idea what happened.
The lot attendent noticed smoke, and fire coming out of the engine compartment about 10 or 15 minutes after I was gone. He tried to extinguish the fire, but one extinguisher wasn't getting the job done, so he called 911. The Fire Department arrived, broke a window, popped the hood, and got the fire out. But the van is a goner.
My thoughts about this development are as follows: a) I'm glad I wasn't in it. b) I'm glad no one (or any other cars) were harmed. c) I wish I knew what caused the fire, but seeing how the van was only insured for liability (2001 model), I doubt there will be an autopsy.
But I also wondered, where is God in this?
I've been reading Kitty Muggeridge's translation of Jean-Pierre de Caussade, SJ's Self Abandonment To Divine Providence, and I recently read the section with the heading, The Present Moment Holds Infinite Riches. I read the following and am trying to wrap my mind around it in light of the scene above,
The present moment holds infinite riches beyond your wildest dreams but you will only enjoy them to the extent of your faith and love. The more a soul loves, the more it longs, the more it hopes, the more it finds. The will of God is manifest in each moment, an immense ocean which the heart only fathoms in so far as it overflows with faith, trust and love. The whole of the rest of creation cannot fill your heart, which is larger than all that is not God; terrifying mountains  are mere molehills to it. It is in his purpose, hidden in the cloud of all that happens to you in the present moment, that you must rely. You will find it always surpasses your own wishes.
It will be an interesting rest of Holy Week, as I learn things I had no desire to learn, and go places I had no intention of visiting.