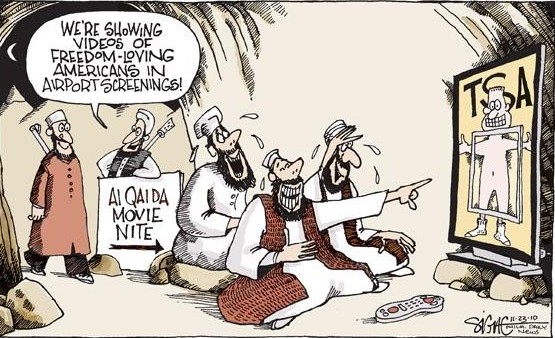 Sarah Houghton is her name, and  she's the Director of the San Rafael Public Library, out in California.  She has been blogging since 2003, sharing her knowledge of libraries and information science with folks the world over.
She has a "must read" post up today that will appeal to all freedom loving peoples. And if you're tired of being kept safe by the TSA, you might enjoy her post too.
All Your Data Are Belong To You: TSA, DHS, devices, and your rights

Back in February, the ACLU filed a Freedom of Information Act (FOIA) request for a Department of Homeland Security report on laptop searches at U.S. borders.  The DHS had posted the executive summaryof the report on its website, but nothing else.  The ACLU is still waiting for the complete report.  The executive summary basically says that upholding the Fourth Amendment, protecting against unreasonable search and seizure, is a pain in the ass and that reasonable suspicion or warrants are too much to ask in the case of seizing people's electronic devices at our borders.

Really?

As someone who has had (unfortunately) extensive experience with the TSA, the DHS, and customs officials while traveling for both work and pleasure, I will share those experiences here along with some advice to protect your information.

Sarah and the Brass Knuckles

And here begins our story.  I have flown a lot in my lifetime.  Between personal and professional trips, I average one or two dozen trips a year.  About three years ago, I was flying from the Rochester NY airport to Grand Rapids, Michigan – going from my step-son's graduation to my grandmother's funeral.  I was stopped by the TSA screeners for having "brass knuckles" in my purse — in reality a 1 1/2″ cat face cheap metal keychain that did not resemble brass knuckles in the slightest.  I was pulled aside, my wallet was taken, and my bags thoroughly searched within my view.  I got mouthy…probably not my best choice, but I was pissed.  This was some over-zealous, bored Rochester TSA flunkie messing with me for no legitimate reason.  I was live-Tweeting it as it was happening.  I was asked to stop.  I said no.  I was asked to hand over my phone.  I said no.  I was asked to hand over my laptop.  I said no.  Eventually they let me go, confiscating the keychain that had made it through security in a couple dozen other airports, and with a warning that I was now on "THE LIST."  I let fly a few F-bombs and boarded my plane for my grandmother's funeral shaking from adrenaline and anger.  I wrote complaint letters to the Rochester Airport administration and to the TSA and got no reply from either (surprise, surprise).

Know Your Rights

So what did I do?  I did my research like a good little librarian.  I figured out what the TSA could and could not do within the U.S., and since I travel internationally I looked into what was legal at border crossings, particularly at airports.  Here are documents I suggest everyone read if you travel within the U.S. or internationally.  Know your rights.
Read the rest for more of her experiences of being screened. She also has cheat sheets for learning how to make it through screenings while protecting your rights (and your electronic devices).
I admit that I do love that 4th Amendment underwear idea.