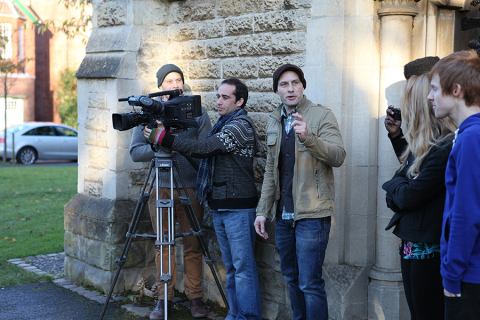 Since the end of August, in the year of Our Lord 2011, I've been bringing word of, and requesting alms for, the making of the film about the life of Takashi Nagai.
Generous donations from readers of this space helped fly Ian & Dominic Higgins, and their crew, back and forth across the globe in order to bring this mans' story to an audience that quite possibly has never heard of him. Readers like you have enabled Major Oak Studios to work tirelessly, and painstakingly, on rebuilding the time and the events that changed the life of this one man, and thousands like him, on another August day in the seaside town of Nagasaki, Japan.
It's a Catholic story, surprisingly, through and through, and the artful work is nearing completion. My friends Ian and Dominic send the following note,
The impressive interior of St. Augustine's church caught the eye of directors Ian & Dominic Higgins as an ideal location to film the Urakami Cathedral scenes.

We cannot express out gratitude and appreciation enough to everyone who has been part of the All That Remains process. The film is now near its final production stage and we thank everyone who has contributed to our previous campaigns.

We need to raise $8,000 to cover final production costs. This money will go towards the costs needed for filming the final few scenes of "All That Remains."

Every penny helps as no money is wasted and even the smallest contributions are significant.

Major Oak Entertainment have been very privileged to be able to work with such a passionate cast and crew and to have had the invaluable support of so many contributors. Everyone's enthusiasm and support is what has made it possible for us to get this far.

Your contribution will help us bring the story of a truly remarkable man, whose legacy is an incredible testament to the power of faith, to a worldwide audience, where it belongs.
As a result, there is a new fundraising doohickey in the sidebar over yonder ==>>
And looky here! An expanded trailer too. Have a looksee,
Take another couple of minutes to meet actor David Yip, and take a behind the scenes look at the making of this film.
The lads also note that there are other ways to help,
Beside financial help, your support in any way is always much appreciated and needed. Please help us get the word out; tell some friends or anyone who may be interested in investing. Your interest and support is what makes us as filmmakers do what we do best. Indiegogo provides great tools to help you spread the word too. You'll find all their sharing tools under the video – use them and spread the word!
Generous readers of this blog have helped Ian and Dominic throughout the life of this project. Thanks again for your support!
Follow the progress of the film closely at the All That Remains production blog.