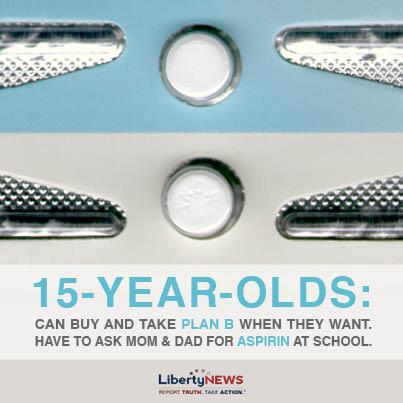 In case you missed the news that Plan-B type contraceptive pills were set to be available without a prescription for minors aged 15 years of age, the New York Times reports that the Department of Justice is appealing that decision. Take a look,
The Justice Department's appeal will not say at what age girls should have access to over-the-counter morning-after pill.

Instead, it will contend that Judge Korman did not have the authority to order the F.D.A. to take a specific action and should have sent the issue back to the agency for further action. And it will say the judge did not have the right to extend his order to versions of the pill not included in the lawsuit.

The decision to appeal is striking in part because, before Ms. Sebelius overruled it in 2011, the F.D.A. — the Justice Department's client in this case — had moved to do exactly what Judge Korman ordered last month.

"We aren't focused in this appeal on the merits of the secretary's decision," said a Justice Department official, who spoke on condition of anonymity. "What we're focused on is that the remedies that the judge ordered were beyond his authority."

For Mr. Obama's administration, the decision to appeal the judge's ruling provides an opportunity to reaffirm a moderate position in the broader abortion debate that had drawn praise from conservative groups that are normally highly critical of the president.

The appeal also reinforces Ms. Sebelius's original 2011 decision, which proved to be very good politics for Mr. Obama at the time. Facing a difficult re-election battle, the Democratic president enthusiastically supported Ms. Sebelius, saying that as a father of two young daughters, he thought it was the right call to have made.

"And I think most parents would probably feel the same way," he added.
Read the rest. The folks over at the Huffington Post are having conniptions already, as is Planned Parenthood.