A friend of mine sent me the good news.
After years in planning, the USA finally has a Trappist beer. It's official.

Spencer Trappist Ale, from St. Joseph's Abbey in Spencer, Massachusetts, officially became an Authentic Trappist Product as of yesterday, December 10. "At a meeting yesterday of the International Trappist Association in Brussels, the Spencer Trappist Ale was awarded the 'Authentic Trappist Product' designation," François de Harenne, Commercial Director of the Orval Trappist brewery, told me in a message today. "The decision was made after several controls made on the premises during the last weeks," Harenne stated. "We also were lucky enough to taste the beer yesterday," he remarked.

It is the I.T.A. that decides who to award the prestigious "Authentic Trappist Product" logo and designation for products produced by Trappist Abbeys. I wrote an article for the I.T.A. in the spring of 2012 about why non-Trappist beers should not be labeled as 'Trappist': "The meaning and proper use of the word "TRAPPIST" as it relates to beer and other products." You can read it here.
Huzzah! It'll probably be a while before I'm able to sample it, but if you're anywhere near St. Joseph's Abbey in Spencer MA, look for it to start shipping in the near future. In the meantime, if you're a brew your own type, this looks like interesting reading,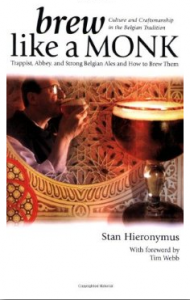 Cheers!
UPDATE (1/11/2014)
NPR just got the news: American Beer Fans, Praise The Heavens: A Trappist Brewery In U.S.