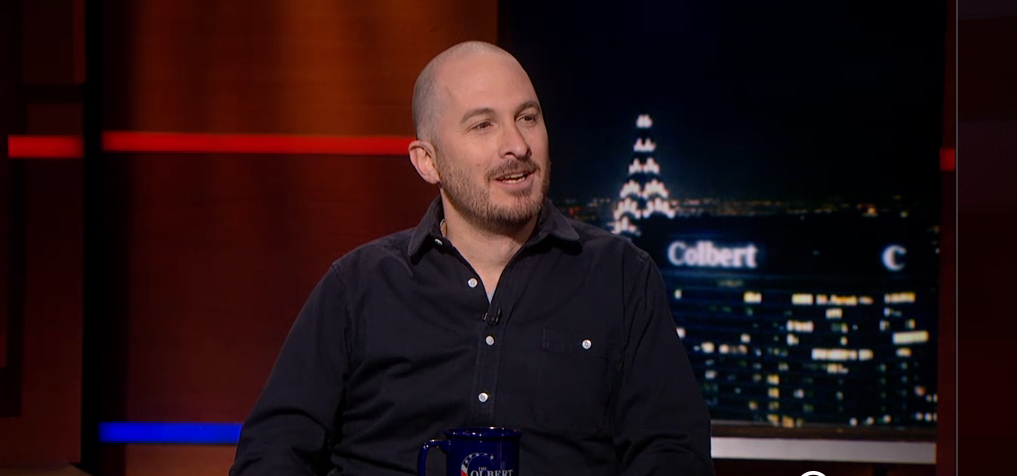 As in-depth as a 7 minute interview can get. Language warning (oh, Stephen!).
Have you seen the film yet? It topped the box office over the weekend, bringing in close to $44M. Box Office Mojo says it's on track to pull in $110M in the U.S.
Noah's $43.7 million debut ranks fourth so far this year behind 300: Rise of An Empire ($45 million). It's a significant improvement over star Russell Crowe's Robin Hood—in fact, it's the highest debut ever for Crowe in leading role. Noah has also already earned more than director Aronofsky's first four movies combined.

Months ago, word began circulating that Noah deviated significantly from the Old Testament story upon which it's based. This raised the question of whether or not Christian audiences would show up to see a "Hollywood" version of one of the most well-known stories ever.

One doesn't have to be a regular churchgoer to be aware of and have some interest in the story of Noah, though, and the action and disaster elements of the movie also helped broaden its appeal. The controversy probably didn't hurt, either: controversy creates conversation, which in turn raises awareness.

Noah's audience was split evenly between men and women, and skewed older (74 percent above 25 years of age). IMAX accounted for $6.2 million (14 percent), which suggests that moviegoers were interested in seeing this epic tale on the biggest screen possible.

Noah received a "C" CinemaScore, which is probably a result of Paramount keeping the stranger fantasy elements out of the marketing campaign. This doesn't necessarily mean the movie is going to fall off quickly: The Wolf of Wall Street is a recent example of a controversial movie that bombed with CinemaScore but held well. At this point, it's safe to say that Noah will earn at least $110 million total.
"Noah has also already earned more than director Aronofsky's first four movies combined."
How 'bout that? So much for the idea of it being a flop.
"But Frank…the guy is an atheist!"
Not my problem, dear reader. Maybe if Catholics were better film makers, we wouldn't be having a case of the vapors because of this. But for the record, did you know that A Man For All Seasons was written by an agnostic? True. Did you know that one of the most highly regarded films about Jesus was directed by a gay, atheist, Marxist? The film goes by the title of The Gospel According to Matthew. Check out the trailer.
There's a guy named Steven D. Greydanus (you may have read his review of "Noah") who reviews the film above, and gives us a lot of background on the other unlikely directors of several other Catholic favorites.
Some of the most intriguing artistic tributes to faith and religion come from nonbelievers. A Man For All Seasons, the great drama of the life and martyrdom of St. Thomas More, was written for the stage and screen by the non-Christian Robert Bolt. The story of The Song of Bernadette, the Marian visionary of Lourdes, was first written as a historical novel by a Jewish author, Franz Werfel. And Mark Twain's favorite work among all his books was his Joan of Arc.

Pier Paolo Pasolini was an atheist, indeed a Marxist, and his The Gospel According to Matthew is routinely interpreted as a proto-Marxist allegory. Yet Pasolini was perhaps first of all a poet, and the concepts of the sacred and the divine, far from repelling him as so much religious superstition, held for him a powerful appeal. In 1962 he came to Assisi in response to Pope John XXIII's call for dialogue with non-Christian artists. While there, he read through a book of the Gospels "from beginning to end, like a novel," later proclaiming the story of Jesus "the most exalting thing one can read."

As a result of this experience, Pasolini became consumed with the notion of filming the life of Christ straight from one of the Gospels, shooting without a screenplay and taking no editorial license with the text. After completing The Gospel According to Matthew, he dedicated it "to the dear happy familiar memory of John XXIII."
Read the rest. You can watch Pasolini's epic in its entirety on YouTube. Not a bad idea as Good Friday gets nearer.