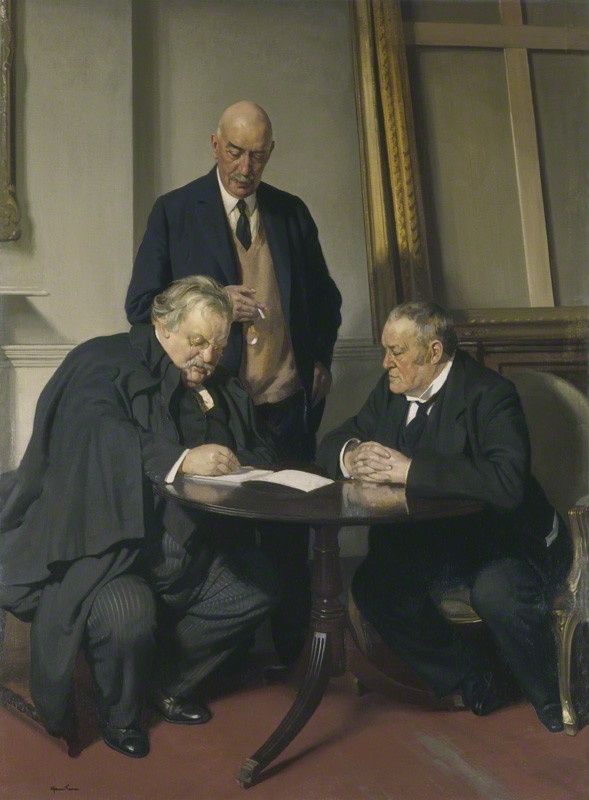 What? There is a third person in the Chesterbelloc? George Bernard Shaw forgot someone? Exactly, dear reader.
See the portrait above? Surely you recognize the heavyset fellow on the left, and the irascible looking fellow on the right. But who is the tall guy in the center? That would be Maurice Baring, the friend G.B. Shaw forgot.
It is said that when Chesterton saw the finished painting he quipped, "Baring, over-bearing, and past-bearing." Joseph Pearce wrote at length about this friendship in his excellent book, Literary Converts
. There is also a little article written by Pearce about him at Catholic Authors.
Here is a poem Baring wrote following his conversion to Catholicism. It was a conversion that surprised everyone, especially himself. But as Pearce informs us,
Baring was received into the Church at the London Oratory on February 1, 1909, an event recorded in his autobiography, The Puppet Show of Memory, with the simple statement that it was "the only action in my life which I am quite certain I have never regretted." His feelings at the time were expressed admirably in his sonnet sequence "Vita Nuova."
Let's have a look at Baring's "new life," shall we?
Vita Nuova
From a play

All these last years have been a winter dream,
Which makes the awakening of the Spring more sweet,
For now it is the Spring, and I do meet you
Among the flowers of April. God is kind.
When hope in all things fair, when desperate faith
In truth and good had perished utterly,
When courage and endurance were nigh dead,
You rise upon my life again. The spring
Is here; the trees are scarcely green, the earth
Is sweet with tender shoots; but you, too swift,
Come bringing not the Dawn but the full noon;
Not Spring, but the whole majesty of Summer—
The summer with his robe of gorgeous gold,
Drenched with the blood of roses and of poppies;
Stiff with the splendid ripple of ripe corn;
Embroidered with the wings of dragon-flies;
His arms all laden with soft crimson fruit,
Crowned with the sickle of the silver moon,
And bearing the tall hollyhock for sceptre.
Throned on the haze of noonday, with a noise
Of turtle-doves, and bees, and nightingales:
His minstrels, bathed in a great cloud of fragrance,
That sheds and scatters many million scents;—
Some warm from the mown hayfields, others cool
From the moist haunts of floating waterlilies,
Some languorous from the creeping jessamine,
Some fresh and dewy from the honeysuckle,
Some aromatic from the dying leaves
Of strawberries, some dreamy from the pink,
Some rich and riotous from the dark rose,
Some heavy from the lily. And in his eyes,
And drooping from the shadow of his hair,
The softness of June twilight, and the rapture
Of the star-haunted, hot, midsummer night.
Beautiful, isn't it? It reminds me of Evelyn Waugh's Prayer of a Convert.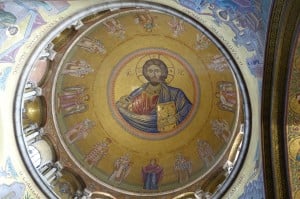 *Photograph belongs to the author.