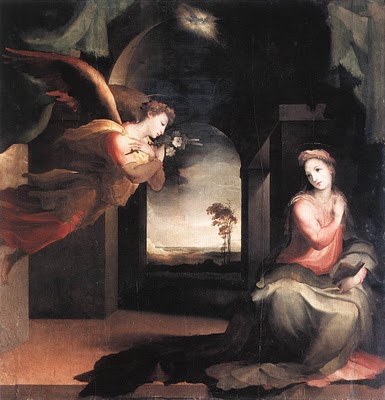 Remember chanting the antiphon "O Adonai" a few weeks ago? We translate Adonai as LORD, which is substituted for YHWH, the unpronounceable name of God.
Well in the case of Our Lord Jesus, there is more, much more, than I ever knew than I did before I became a Catholic. Today, as you can see from the liturgical calendar, we celebrate the Feast of the Most Holy Name of Jesus.
Now might be a good time to explore the question, What's in a name?
Sometime ago, Monsignor Charles Pope ran a post on some of the Paradoxes of Christmas. Some very interesting observations are listed there.
In Archbishop Fulton Sheen's Life of Christ, he too mentions several of the paradoxes listed by the good Monsignor. Such as "Bethlehem" means House of Bread, and that Our Lord, the Bread of Life lay in a manger, which is a feed trough for livestock.
In the past, I've said that Jesus was from the wrong side of the tracks. Bishop Sheen points to the fact that to the world, Jesus was a nobody from nowhere. Really, a Messiah from the sticks of Galilee? How gauche. And from what I've read (see notes below), even the Messiah's name was pretty common. Everybody hoped their son would, you know, be the One.
As Christmas hove into view, the gospel reading was from the first chapter of Luke. We know the text as the Annunciation, when the Archangel Gabriel gives the Virgin Mary the "good news." Pretend for a moment that this visit to Mary by Gabriel took place about 9 months ago, back in late March. Gabriel said,
Behold, you will conceive in your womb and bear a son, and you shall name him Jesus. He will be great and will be called Son of the Most High, and the Lord God will give him the throne of David his father, and he will rule over the house of Jacob forever, and of his Kingdom there will be no end." (Luke 1:31-33)
In the divine plan of salvation, see, no detail is left to chance. Even the child's name is chosen, pre-ordained by God. And this is where this already miraculous story gets even more interesting.
For a moment, let me play the Nicholas Cage character from the movie National Treasure and explore the name that Gabriel commanded Our Lady to give her son. Indulge me a little, because unlike Cage's know-it-all character, I'm no scholar of Hebrew, Aramaic, Greek or Latin. I'm just a guy who stumbled onto something that you may find interesting. You don't have to believe it.
First, though you do need to know a little detail about the name of God. I came across this back in the summer of 2008 when I was reading Pope Benedict XVI's book Jesus of Nazareth: From the Baptism in the Jordan to the Transfiguration
.
Therein, the Pope Emeritus mentions one of the forms of God's name as the unpronounceable YHWH. Some scholars say this should be YHVH, but you may also know it by Yahweh instead. It turns out (and there is some debate about this too) that Yahweh is simply an attempt to pronounce the unpronounceable YHWH, see? Slap a few vowels in there and we can speak the ineffable name.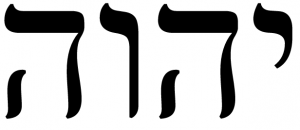 But hold fast, because that isn't what was intended. Seriously. Now, YHWH in Hebrew looks like this: יהוה. These four letters are also called the tetragrammaton. From the little research I've done (see links below) I found that a shortened version of the Name is used in some places in the Old Testament as well. As such, it still cannot be pronounced, but it was spelled like this: יהו.
Now look at the name in the title of this post: יהושע. Notice how the first three letters (reading right to left) in this name are the same as the three letters in the short form of the name above? That is the short form for the unpronounceable name of God. Added to it are two more Hebrew letters to form the pronounceable name Yehosua, or some say Yeshua, or what we know today as Jesus. Which is, of course, the name that Gabriel commanded Mary to give unto the Messiah.
One of those additional letters looks a bit like an English W. That particular letter, ש is pronounced "shin". It also is used when referring to the Shekinah, or "divine presence" or what we now call the Holy Ghost or Holy Spirit.
And that is all I wanted to share with you today about the Name of Our Lord and Savior, Jesus, the Christ.
His name indeed contains the names of the other two persons of the Trinity. Jesus revealed to us that God (YHWH) is the Father, that God(YHWH) is The Holy Spirit (ש) and altogether, the Word Made Flesh (יהושע), whose name means "God Our Savior," is God (YHWH) the Son.
Which helps explain how St. Paul could write this about Jesus in his letter to the Philippians (2:5-11, bold is my emphasis),
Let the same mind be in you that was in Christ Jesus,

who, though he was in the form of God,
did not regard equality with God
as something to be exploited,
but emptied himself,
taking the form of a slave,
being born in human likeness.
And being found in human form,
he humbled himself
and became obedient to the point of death—
even death on a cross.
Therefore God also highly exalted him
and gave him the name
that is above every name,
so that at the name of Jesus
every knee should bend,
in heaven and on earth and under the earth,
and every tongue should confess
that Jesus Christ is Lord,
to the glory of God the Father.
Some scholars believe Paul obtained these words from an early Christian hymn. I don't know for sure. But note how the name of Jesus is used in the epistle above in place of YHWH as Paul references what reads like this passage from Isaiah 45:22-25,
Be converted to me, and you shall be saved, all ye ends of the earth: for I am God, and there is no other. I have sworn by myself, the word of justice shall go out of my mouth, and shall not return: For every knee shall be bowed to me, and every tongue shall swear. Therefore shall he say: In the Lord are my justices and empire: they shall come to him, and all that resist him shall be confounded.
Which brings us back to what was promised to us,
…the Lord himself shall give you a sign. Behold a virgin shall conceive, and bear a son, and his name shall be called Emmanuel.(Isaiah 7:14)
Which, as you may remember means God with us. This prophecy, then, has been fulfilled. Was this interesting discovery about the name of Jesus the same one that Erasmus cracks wise about in his In Praise of Folly? Perhaps this discovery is what his poor target of derision was attempting to explain, but Erasmus heard the whaa, Whaa, wa, Whaaa, wha, wha sounds the Peanuts characters hear when adults are talking. That is just my best guess, nothing more.
Does anyone besides me remember the Italian comedy westerns starring Terrence Hill? Some of his films were titled My Name Is Trinity (1970), Trinity Is Still My Name! (1971) and My Name Is Nobody (1973). Our Lord did, in His High Priestly prayer, say as much (bold is mine):
I have manifested thy name to the men whom thou hast given me out of the world. Thine they were, and to me thou gavest them; and they have kept thy word. Now they have known, that all things which thou hast given me, are from thee: Because the words which thou gavest me, I have given to them; and they have received them, and have known in very deed that I came out from thee, and they have believed that thou didst send me. I pray for them: I pray not for the world, but for them whom thou hast given me: because they are thine: And all my things are thine, and thine are mine; and I am glorified in them. And now I am not in the world, and these are in the world, and I come to thee. Holy Father, keep them in thy name whom thou has given me; that they may be one, as we also are.
Thanks be to God!
One last comment: when reading the scriptures and you see LORD in all capital letters, that is usually YHWH in the original text. Happy feast day!
NOTES:
Links to sources that I have consulted for this post (check them out if you have some time to kill):
Trinity image, St. John's College, Cambridge.

Where I first learned of this, but with not enough detail: Chastity in San Francisco.

DOZULE LE RETOUR GLORIEUX DU FILS DE L'HOMME. Fear not, it's in English.

Return to the Fountainhead of Faith: Names of God.

The New Mormon Challenge (Francis Beckwith is one of the editors).

Where Christology Began: An essay on Philippians 2.

Is Jesus God? (notes on the usage of YHWH

Encountering the Manuscripts:An Introduction to New Testament Paleography

Paradise now: essays on early Jewish and Christian mysticism.

Figured out: typology and providence in Christian Scripture.

Jewish Encyclopedia: Shekinah.

Wikipidia: Shekinah.