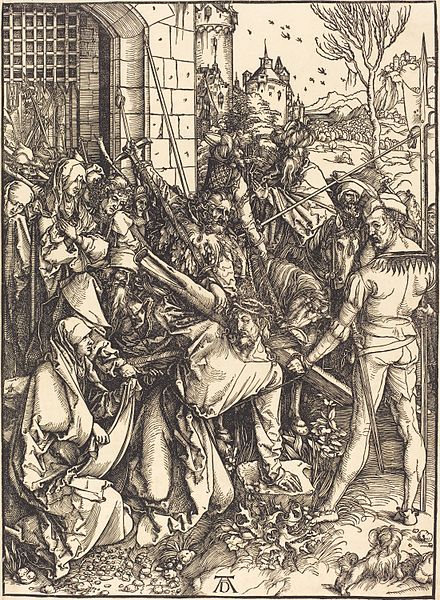 What? You weren't up for an early Lent this year? Too bad. We can't even blame this on Punxsutawney Phil, either, as whether a groundhog sees his shadow (or not) has no bearing on the liturgical calendar.
So what have I been doing during these dark, snow filled (and now ice filled) days leading up to Lent? Reading, naturally. Folks started yakking about the Crusades, and I thought to myself, "you know what? I don't really no much about the Crusades." So I picked up a few volumes about that 500 year long epoch in order to educate myself. I'll probably be turning to the Inquisition next for the same reason.
But I wasn't able to find the book at the library that I'm writing about now.
I think only Google and the Lyon library have a copy of it. That's kind of strange because it's modern, compared to the First Crusade. It was published in 1808, which is just a blink of the eye in the scheme of things.
It's not very well known, I reckon.  But it is definitely Catholic  with a capital C. Guess what? It won't take you more than 15 minutes to read it either.
Who is the author? Anonymous, I guess. In fact, it is so short, I've transcribed it for you below. There are several pages that didn't completely get scanned by the techies at Google, see. So the question marks and brackets that I left below are I have no idea or my best guess.
It is an interesting snapshot on how our recent (19th century) Catholic ancestors thought to fulfill  the Lenten season. Surprisingly, much of it seems like it could have been written just last week.  And, go figure, it appears the author laments the lukewarm nature of many of the faithful and is saddened by assaults on the Church as well.
Sheesh, so much for the "good ol' days!" My buddy Qoheleth from Ecclesiastes is clicking his tongue at me and saying I told you nothing new was under the Sun, Rookie!
Anyway, here the little gem is. You may particularly enjoy the topics Anonymous suggests we meditate on for each of the six weeks ahead of us.
The Little Guide for Lent

He who hateth his carnal life in this world, shall save his soul in the next. (John xii.25)

BURY Printed by P. Gedge 1808

The Motives and Manner of Observing Lent Holily

The Motives

1. Consider that Lent, as it is in these our times, retains very little more than the name from what it was in former times: it hardly deserves the name of a time of penance: how many poor would think it a time of indulgence, and of plenty, if they were supplied with all the things which we are still allowed? Therefore may we not consider the retrenchments which Lent obliges us to, as rather salutary to our bodies, as well as it is to our souls (as the Church says it in her prayers), because we retrench by it what generally is rather hurtful by its excess? Hoc salutare jejunium animabus, corporibus que curandis salubriter institutum est.

2. Consider, how much the holy church of Christ is afflicted in these our days, from the growing lukewarmness of her children, and from the assaults of her enemies of every kind; and it has always been by strenuous prayer, and by fasting, that God's assistance has been had recourse to, in times of great tribulations. Let us not do the contrary by shunning the slight penance the Church enjoins us, afraid of commanding more to our weakness and unwillingness.

3. Consider the enormous multitude of sins, which [on]ly increasing, from the [sou]l being now grown so [corru]pt: consider that the [number] of your own sins makes perhaps no small part of that multitude; therefore do all you can to appease God's anger and to turn off his vengeance.

4. Consider how few, in the decline of christian piety, take pains to observe the fast of Lent, as it should be: Therefore take courage to give it up to Almighty God; and it will be a comfort to you to think that you are joined thereby to so many holy souls who do the like.

5. Consider the great abundance of special graces which God pours from heaven during this season, which is owing to the prayers of the Church, and to the many good works which are then performing; for which, this time is called an acceptable time, and days of Salvation: endeavour, therefore, all of you to get a good share in those graces.

6. Consider that the true servants of God, and all saints, have made a great [poi]nt of fasting, especially the fast of Lent, because it is of apostolic institu[tion] and therefore we may [pon]der it as ordained by Christ himself.

7. Who would refuse to imitate his Saviour as far as he can? Jesus fasted forty days without food. He has [there] by merited for us grace [particul]ar works of penance [bear f]ruit.

8. Consider this Lent to be the last of your life: the last to enable you to purge your conscience, to satisfy divine justice, and to prepare you for a favorable judgement. Upon all these considerations, see, whether instead of seeking to diminish the penance of Lent, such as it is, you would not do well to add to it something of your own choice, as, by not making use of the public dispensations which are granted, or by being more frugal and plain on your table, etc. fasting cures Vice, elevates the mind, procures Virtue, and its rewards.

The Manner of Observing Lent Holily

First Method: To Meditate on the Passion of Christ so as to divide the whole into six parts, one for each week of Lent.

First Week: On the Agony.

Beg by this said agony that you may overcome all the combats of your life, especially at your death. Give great thanks to your Savior for having endured that agony; and let the thought of it be your support in your troubles, particularly of mind.

Second Week: On Judas's Treason.

Beg pardon of your Saviour for all your treasons against him, by human respects, shame, or interest. Remark his meekness towards Judas, because he was willing to forgive him. Never despair his goodness and mercy.

Third Week: On our Saviour before the Judges, on his scourging, and crowning with Thorns.

Admire his meekness and silence throughout. Imitate him in your trials and contradictions. Avoid the particular sins for which he has suffered these torments, as sins of uncleanness or pride.

Fouth Week: On Peter's Denial.

Consider the great affliction to our Saviour's heart, to have seen himself deserted and denied by the first of his apostles. Bear it with patience when your friends forsake you: and dread your own frailty.

Fifth Week: Your Saviour's Carriage of the Cross

He carried it tho' heavy. Holy women would weep over him, but he told them to weep over themselves. Let us stand our offences, and the notice of God, and we shall not think our crosses so intolerable.

Sixth Week: On our Saviour nailed to the Cross, and dying upon it.

Consider the piteous state his whole body was in, from head to foot. Remark that word 'tis consummated. With what? With sufferings. That death is happy which presents to God a great deal of suffering born with patience. Say often with your blessed Lord: Into thy hands, O Father, I commend my Spirit.

Second Method: Practice of Virtues and Good Works.

1. The consideration of the Lord as above.

2. Hearing mass every day either in desire, or in ?

3. Beginning Lent by confession, to purify your soul.

4. Assisting at instruct? or hearing them read.

5. Instruct the ignorant in the ways of salvation, especially servants and [childr]en.

6. Affording comfort to the afflicted.

7. To be more liberal than usual to the poor.

8. To undertake more earnestly to mend your defects, and to acquire the contrary virtues.

9. To devote yourself generously to the pursuit of sufferings and humiliations, if God's grace draws you that way.

10. Pray more fervently and attentively. Propose to yourself some particular object in your prayers, as a greater desire of your salvation, the conversion of someone, the prosperity of the Holy Church, the worthy reception of the Holy Sacraments by the faithful, etc. Do not forget amidst your prayers the poor souls suffering in Purgatory. Lastly. Say some prayers often to beg for the great grace of a holy death thro' the wounds and death of your Saviour; set apart, at least one day, to prepare for it: and be very intent, during Lent, to settle rightly the state of your conscience.

Prayer: Grant, O Lord, that thy faithful may willingly undertake this fast, and perform it with a steady devotion. Through, etc. Sparing in words, and more in food; Also drink less where excess stood; Retrench from sleep, and amusements, Thus wilt thou keep Lent commandments. Do not forget fervent prayer, Of alms, with fast, the great power.

Finis.
See this wee tome for yourself here at the YIMCatholic Bookshelf. Maybe you can figure out the remaining missing words. If you do, please let me know.