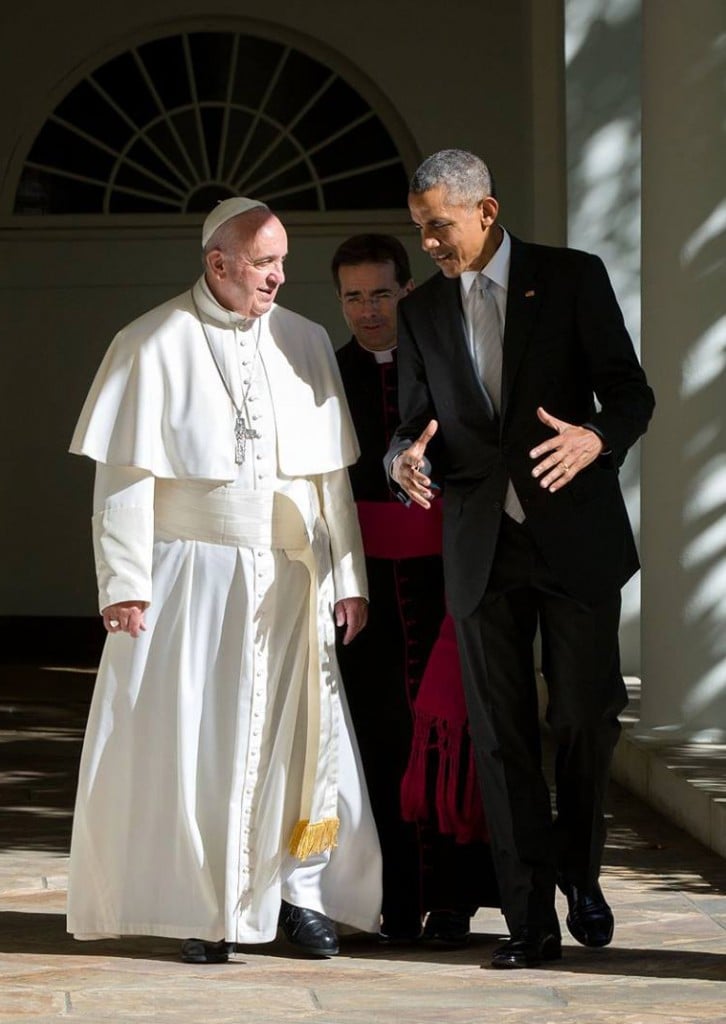 What a difference 4 and 1/2 years makes. Wait. It's been 5 1/2 years? Has it really only been that long since I wrote the post saying that the HHS Mandate struck at the heart of religious freedom?
Has it really been that long since I climbed into a cockpit, strapped on a White House Petition, and rocketed toward the very edge of the atmosphere, hoping to send a message to the POTUS to let religious liberty be what it always has been?
Has it really been that long since, in his hubris, President Obama had his Press Secretary (poor Jay Carney) proclaim that the HHS Mandate would be a fait accompli? He had his HHS Secretary (poor Kathleen Sebelius) working for months, and months, on an accommodation that would have financially destroyed all those "not quite churchy enough" religious non-profits who refused to bow to Caesar?
Because today, President Obama is saying that yesterday's Supreme Court Decision is a win for everybody. It's a win for women AND religious liberty.
Do tell, Mr. President.
Following the Court's decision, President Obama said, "The practical effect right now is that women will still continue to be able to get contraception, if they are getting health insurance. And we are properly accommodating religious institutions who have objections to contraception."
The above is from the Press Release put out by The Becket Fund For Religious Liberty titled, Pres. Obama confirms HHS Mandate unnecessary.
Let's read the whole thing. Bold highlights are mine.
WASHINGTON, D.C. – Following the Supreme Court's unanimous decision yesterday to overturn the lower court ruling against the Little Sisters and forbid the government from fining the Little Sisters for failure to comply with its "contraception mandate," President Obama applauded the decision as a win for religious freedom and women. In an interview following the decision, President Obama said it was a win for everyone and that women could continue to obtain contraception while the religious plans are protected by the Court from being forced to comply with the HHS mandate.

The government had previously told the Supreme Court that any woman who does not receive contraceptive coverage from her employer can already get free contraceptive coverage from many other sources because those "employees will ordinarily obtain coverage through a family member's employer, through an individual insurance policy purchased on an Exchange or directly from an insurer, or through Medicaid or another government program." Following the Court's decision, President Obama said, "The practical effect right now is that women will still continue to be able to get contraception, if they are getting health insurance. And we are properly accommodating religious institutions who have objections to contraception."

"I wish HHS had reached the same conclusion five years ago that President Obama did yesterday," said Mark Rienzi, senior counsel at The Becket Fund for Religious Liberty. "But the President's acknowledgment that any woman who wants free contraception can already get it right now—while the Little Sisters are under Court protection against a forced takeover of their health plan— should effectively end this debate over whether the HHS mandate was necessary to providing women access to these services.

"The rhetoric from our opponents in this case has never matched the reality," said Rienzi. "We hope that the President's willingness to acknowledge that the Little Sisters' religious objections have never threatened any woman's access to contraception will encourage others to tone down their rhetoric and follow his lead."

The government exempts 1 in 3 Americans from the HHS mandate. It also exempts large corporations such as Exxon, Visa and even the government's own military family plan. A total of 100 million Americans are exempt from this regulation and could be eligible for coverage under the new solution chosen by the government.

The Little Sisters are joined in their case by many other Becket clients, including Christian Brothers Services, Christian Brothers Employee Benefit Trust, Houston Baptist and East Texas Baptist Universities, Reaching Souls International, Truett-McConnell College, and GuideStone Financial Services of the Southern Baptist Convention. Other parties in this case include Geneva College, Southern Nazarene University, the Roman Catholic Archbishop of Washington, and the Most Reverend David A. Zubik. All of these clients also had the adverse decisions in their cases vacated and sent back to the lower courts.

Paul D. Clement of Bancroft, PLLC presented the oral argument before the U.S. Supreme Court. Noel J. Francisco of Jones Day also presented arguments on behalf of several other ministries. The Little Sisters of the Poor are represented by the Becket Fund for Religious Liberty, Locke Lord LLP, and Professor Kevin Walsh of the University of Richmond Law School.

For more information about the case, visit www.thelittlesistersofthepoor.com.
So this is how the HHS Mandate dies. It dies with a whimper, not a bang. It dies, though, with the vain hope (of those who foisted it upon us) that we will forget from whence it came, and why it was ever even claimed to be necessary.
In fact, it suffered the kind of fait accompli that only an answered prayer can deliver.
And we are amazed by it. Thanks be to God!
UPDATE
Archbishop Joseph Kurtz, President of the USSCB, responds to the SCOTUS decision,
I am encouraged by today's unanimous decision of the Supreme Court. It wipes away the bad decisions that so many of our charitable ministries were appealing, it maintains hope that we might resolve this dispute finally and favorably sometime in the future, and in the meantime, it prevents the Administration from issuing crippling fines against those who object.

I take this occasion to reiterate the unity and resolve that the bishops of the United States have expressed repeatedly in opposition to the HHS mandate, such as in their Special Message from 2013 and their statement "United for Religious Freedom" from 2012. I also recall the encouragement that we have received from Pope Francis in this regard during his recent apostolic visit to the United States, first by his remarks at the White House, and then by his personal visit to the Little Sisters of the Poor.

Speaking about religious liberty from the White House in September, Pope Francis said "that freedom remains one of America's most precious possessions. And, as my brothers, the United States Bishops, have reminded us, all are called to be vigilant, precisely as good citizens, to preserve and defend that freedom from everything that would threaten or compromise it."

In light of this, USCCB will continue its opposition to the HHS mandate in all three branches of government. We are grateful to the Supreme Court for the opportunity to continue that effort. We remain convinced that, as a nation, we do not wish to push people of faith and their ministries out of charitable work – under threat of severe government fines – or leave freedom of religion protected only in private worship.
Amen.