Do you have a work-a-holic or a hyper-hobbied man in your life? Do you want to help him find balance and purpose in life?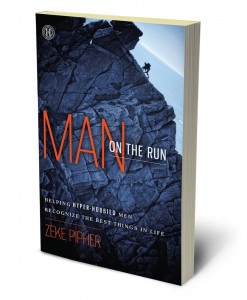 I've had several people ask me what "Man on the Run" is all about…so here's a short description:
We were all made to live lives of passion & pursuit. Yet, many men often chase their pursuits to the point that they break commitments and damage relationships. When this happens wives and children are neglected, friends are pushed aside, and churches and civic organizations experience the void of male participation. Few families in America have escaped the wounds inflicted by hyper-hobbied, over-zealous men.
It doesn't need to be this way. "Man on the Run" encourages men to run hard…yet, without losing sight of what matters most in life.
Here's a video trailer that also helps explain the book. Happy reading!
Also, congratulation to Brian Dirks for winning the book giveaway! Thanks to everyone who left a comment.