I've blogged in the past about being careful to not make our children deal with images from our past that could hurt them. If our transgressions screw-ups have been removed from us as far as the east is from the west, we must be very careful about dredging them up and making others think about them, especially our children.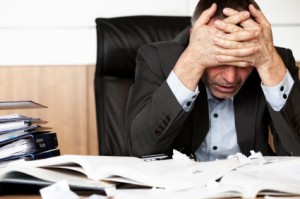 But…that being said, parents who walk by grace will regularly share their neediness for the help of God with their children. One of the great goals of parenting is to help our sons and daughters realize they need the grace of God, and that they can depend on the Holy Spirit for their strength, wisdom, and encouragement.
We do this by joining them in the journey. And we join them by sharing how we need God's grace and help. Authenticity.
This past Sunday was a rough day for me. I was feeling stressed and a bit discouraged. Some Sunday sermons almost preach themselves. This past one was not one of those—it was work from the moment I walked into the church. The rest of the day also presented challenges.
Later that evening, Aidan sat down by me on the couch. He said, "Dad, are you ok? You don't look so good."
I replied, "Yea, I'm not having a great day, Buddy. I'm struggling."
I explained how I felt discouraged by a few things I'm walking through with other people, and how I also felt discouraged by things I see in myself that I don't like. I didn't go into detail. I didn't give him concrete images. I just told him that I feel worn out and like the great enemy of my soul is taking advantage of my weariness.
My eight-year-old son rubbed my back and asked me if there was anything he could do for me. I asked him to pray for me that God would give me strength and encouragement.
Peter wrote in I Peter 5:6, "Humble yourselves, therefore, under the mighty hand of God so that at the proper time he may exalt you, casting all your anxieties on him, because he cares for you."
This humility that Peter is encouraging involves admitting our need for God. I mean, think about it…we need everything from Him. Breath. Joy. Energy. Food. Water. Community. Encouragement. Strength. Spiritual vitality. Hope. Rest. Everything! This is why humility is so appropriate as a posture before God—we are so utterly and completely dependent upon Him for LIFE.
And our children need to see this and hear this humility in us. They need invited into praying for us and watching God restore us. When a son hears his dad say, I'm struggling. I've got some serious needs that only God can meet. Will you pray for me?,the child not only gets to see a dad who depends on God…he gets to see a God who, in real and personal ways, cares for his dad…through the child's own prayers. My son encouraged me in the Lord, and saw himself do it. That's powerful!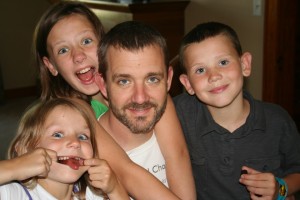 The next day, Aidan asked me if I was doing better. And I was. God ministers to us in our sleep, and by the time my alarm went off the next morning I was feeling encouraged, ready for Monday.
There are few things that we can give our kids that will be more vital to their joy and peace than a picture of how it looks to lean fully on Jesus and watch Him care for us. Our transparency is a part of the way we journey with them in this walk of grace. In return, they give us quite a bit…sometimes they're the ones to pray & encourage us.
Zeke writes about how men can live authentic, close relationships with their wives, children, and friends in "Man on the Run." To purchase a copy, click on the following icon.