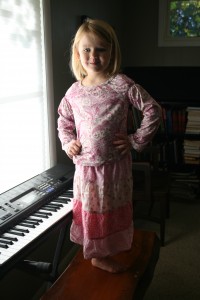 "The music, while it lasted, brought a new world into being."
– Wendell Berry in Jayber Crow
My seven-year old daughter, Claire, is always squirmy. Except when she's on my lap at a concert listening to Sara Groves sing Fireflies and Songs. In that moment, and that moment alone, she's entranced and deeply contented in a way that reveals itself in a few motionless moments. As the song began, she leaned over and whispered into my ear, "Dad, I know this one." Then she kissed me on the cheek, settled into me, and sat perfectly still and happy.
Music is so important for families. Few things shape a family's identity more than the art they enjoy together. When our family takes trips, makes meals, or cleans out the garage, we listen to music. We put on an album and we sing. Never softly — always at a volume and in a manner only fitting for family and close friends. Sometimes we even dance. My oldest daughter, Kate, told someone last night at the concert, "My dad dances in a crazy way when it's just our family."
And I do. But so does she. And so does her mom, sister, and brother. It's what we do.
Let me commend good music to you and your family. May you put on a favorite album this weekend and experience the new world it brings.