I've been watching Planet Earth with my family. Huge kudos to the BBC Natural History Unit – these videos are breathtaking. They're also raw and vivid in their portrayal of the brutality of "real life… painfully raw and vivid, in my 7-year-old's opinion. Tonight we watched the "Fresh Waters" episode, and Claire shrieked and buried her head under a blanket when a crocodile laid the hammer down on an unsuspecting wildebeest.
As parents, we need to live with our children with great understanding; it's a confusing world they're trying to figure out. Children grow up hearing how Charlotte, the spider, became friends with Wilbur, a cute little farm pig. Then they visit a hog farm or eat pork chops for dinner. They read about Baloo the Bear becoming friends with a human in The Jungle Book, and then they see a stuffed grizzly at Cabela's. And they watch Simba battle his uncle, Scar, after his dad died, and then watch a lion tear apart a monkey on a nature show.
I love these stories, and they expanded and shaped my imagination. It's just that, as a dad, I'm realizing that they make the journey to understanding life and death in the real world, well, odd. I saw this the other night when Claire tried to cope with seeing a pine martin hunt, catch, and eat a squirrel in the Redwood Forest. After the scene, she swallowed hard, sniffled, and said, "It's ok…that squirrel wasn't that cute."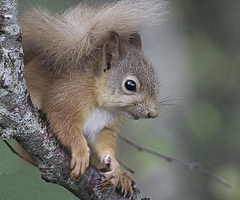 Which told me that, to Claire, it actually
was
that cute.
I'm thankful for our farm. The Briar Patch is sort-of the halfway mark between Disney and Planet Earth. We have chickens, cats, dogs, and fish. When I went home for lunch today, there were over 100 wild turkeys in the cornfield to the east. As I pulled out of the driveway to go back to work, a whitetail doe bounded from our tree line. Most of the animals on our acreage have names, and our kids treat them as pets. Yet…they poop. A lot. And they fight, attack one another, and eventually they die. In three short years of living outside the city limit, we've lost three kitties, crippled a chicken, and flushed countless fish down the toilet and into our septic tank.
It's a hard, cold world at times, and we need stories to warm it up. As parents, we need to put ourselves into our children's minds to help them process the chilly parts.