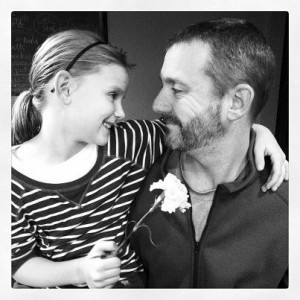 Listen up all you grade-school boys, in about ten years, you're going to need to bring your A-game. I'm dating my daughters and setting a ridiculously high bar for you to clear. I'm calling them on the phone to ask them out. I'm buying them pink carnations, sunflowers, and roses. I'm opening doors. I'm asking them questions and showing interest in their answers. I'm buying their meals. And at the end of the night, I'm thanking them for giving me the gift of their time.
Consider this a friendly heads up, little men…by the time you come around, my daughters are going to have a vision for dating. They're going to know down deep in their souls that they are valuable. They're going to have non-negotiable, firmly established, uncompromising expectations as to how they should be treated. And they're going to decide whether you get a second date by how decently you treat them on the first.
So, boys, look for good role models. Practice godliness. And I'll see you in about a decade. Or, on second thought, let's make it two.
Christmas Present Idea for men: "Man on the Run: Helping Hyper-Hobbied Men Recognize The Best Things In Life"