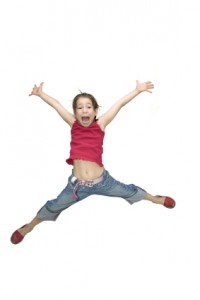 Our youngest daughter, Claire, has had a hard time learning to read. Our first two children took to books like honeybees to flowers, but their sister has had a harder time locating the nectar.
Awhile back, my wife, Jamie, told Claire: "If you stick with it and work hard, there will come a time that reading will just click for you."
That statement ignited hope in Claire, and clearly stuck in her mind all day – that night before bed, she said, "Mom, I can't wait for that clicking to happen. Will I actually hear a clicking noise in my head when it does?"
Even without the promise of an audible noise, Claire, for several months, has remained committed to the goal. Everyone in the family has cheered her on. And there's so much to cheer – I've seen few people work harder and stick to a goal more fervently than my seven-year-old rock star. I've watched her wipe frustrated tears from her cheeks as she sounded out one word after another…without putting the book down.
Fast forward to today…when "the click" entered the building. I went home for lunch and Claire was waiting by the door, biting her bottom lip, and beaming with satisfaction.
"It clicked, Daddy!"
Me, giving Jamie a strange look before turning back toward Claire, "That's so great, Sweetie…but what are we talking about?"
Jamie, giving Claire a reassuring smile, "Explain to Dad we're talking about your reading."
Claire, still wildly enthused, "The click happened, Dad…I can read!"
Sure enough, we sat down on the couch and she read Father Bear Comes Home with an ease and sense of confidence I've never heard from her before. When she finished, she crossed her legs, looked up at me with the brightest, happiest eyes imaginable, and waited for my response.
"Way to go, my girl! We're throwing a Clicking Party! We'll make pizza, and you get to choose the ingredients."
Claire bounded out of the room and into a frenzy of party planning. Something tells me it's going to be the grandest Clicking Party EVAH!
May we, as parents, celebrate our children's milestones. What may seem small to us likely seems big, hairy, and audacious to them. Let's look through their lens, identify their challenges, and celebrate their successes.
What a great moment in the Pipher home today! "Thank you, Lord."
Parents, what milestones have your children crossed recently? How did you celebrate them, or help them sense the satisfaction of hard work and commitment?