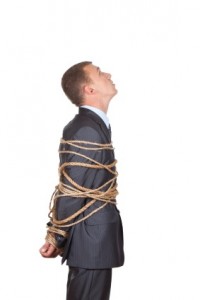 Have you ever been pinned down and unable to do anything? I had a friend, Doug, who could grow a Zac-Brown-type beard in 10th grade. He could also bench 250-lbs and throw other 10th-graders around like rag dolls. I'll never forget the time when Doug twisted my arms and legs into a pretzel and sat on me while my other buddies (and I use that term loosely) ate my share of the pizza. I lost it all because I was pinned down and couldn't do anything.
At the end of Luke's Gospel we find another man who was pinned down and couldn't do anything. There were two men crucified with Jesus. Early in the execution, both men joined the soldiers in insulting Jesus. How men with stakes nailed between bones and slammed up against nerves found the energy to make fun of Jesus is a mystery to me. But they did. Matthew 27:44 states, "And the robbers who were crucified with him also reviled him in the same way."
But then something spectacular happened; one of these robbers had a change of heart. In Luke 23, after one thief mocked Jesus, the other rebuked him, saying, "Do you not fear God, since you are under the same sentence of condemnation? And we indeed justly, for we are receiving the due reward of our deeds; but this man has done nothing wrong." And he said, "Jesus, remember me when you come into your kingdom." (23:40-41, ESV)
Of all conversions in the history of Christianity, this has to be one of the most extraordinary. This man who, just a few moments prior "reviled" Jesus, now wants to be with the Lord in eternity.
But, here's the problem…he's pinned down and can't do anything. He can't lift a finger to help another human being. He can't give money to the church. He can't lead a ministry, read the Scriptures, or even share his faith with anyone. He's nailed to a cross, a few breaths away from eternity, and can't do one good deed. We have a few sayings here in the US: "God helps those who help themselves," and "we get what we deserve," and "you get out of it what you put into it." Well, if there is any truth to these sayings when it comes to salvation, this man on the cross is in a world of trouble.
So, what did Jesus say to this man with unable-to-do-anything faith? "And Jesus said to him, 'Truly, I say to you, today you will be with me in Paradise.'"
Jesus gave this helpless man heaven. This tells us that we can do good deeds from sunup to sundown, but if we don't have faith, we won't reach heaven. Likewise, we can have faith, but not a single chance to do one good deed, and we still gain "Paradise." It all comes down to faith. Which side of the cross are you on this Easter?