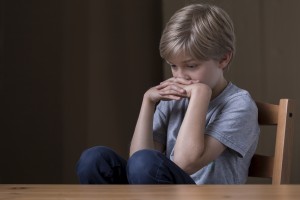 All men have an inner boy, and many of our inner boys have strong recollections of growing up and getting crushed, silenced, disappointed, and at times, even victimized by our fathers, or by other frail-hearted men. Because of our rough childhoods, many of us would be justified in repeatedly saying, "I was wronged. I deserved better." We were, and we did.
But there's a risk in telling ourselves over and over again that we are victims—in doing so we create our own narrative, and then camp out in the scripts we have created. The "I was wronged, and I deserved better" narrative, while perhaps true, binds us to a story in which we are the main character. That main character remains a wounded boy, sitting on a chair, in a dark room, alone.
We can choose that story. Or, we can choose the tale of a young boy who grows up to become a man because he encounters, and is awakened by, the life-changing power of the grace of God.
Each man must make his choice. He can't be a boy sitting on a chair, in a dark room, alone with his wound AND be a warrior, exploring wild places, rescuing the vulnerable, and defending his heart from this soul-threatening world.
One option for becoming an "awakened man" in 2016: