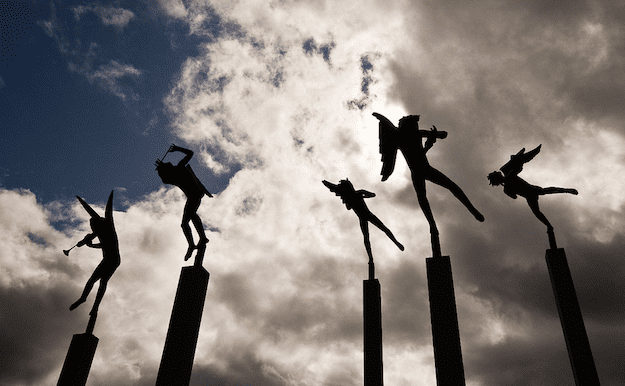 We need in every community a group of angelic troublemakers. Our power is in our ability to make things unworkable. The only weapon we have is our bodies and we need to tuck them in places so wheels don't turn! – Bayard Rustin
A few weeks back, I found myself sitting in dimly lit basement filled with people I didn't know, hearing stories about a man we all loved. There were only a few familiar faces in the crowd, but yet it was clear that we all had a much deeper and shared story than was obvious at first glance. Each person had come from very different places, backgrounds, and experiences, yet we were all there to remember and celebrate one person who was to us a mentor, friend and loved one.
Stan wasn't old enough to die and no one was ready for this. He died with documents unfinished, to do lists unchecked, and coffee appointments unfulfilled. We were planning to watch American Hustle at the cheap theater in town.
Stan was, among many things, a Quaker minister, and for more than 30 years he tried to carve out that little sliver within Christianity where these strange and, as my friend Mike calls them, "mythical beasts" walk. Stan wasn't just any old Quaker pastor either; he was a pioneer whose public ministry far exceeded the confines of any congregation he ministered within. His complex life, his irreverent style, perfectly-timed humor, and his challenging presence exceeded the containers set up for him.
He was an angelic troublemaker through and through, and I think Rustin, a Quaker and Civil Rights activist, would have been proud.
One of my favorite stories Stan told captures some of this. Once, someone who disapproved of Stan, approached him at a coffee shop and said, "You know Stan, even if you were the last person on earth, Jesus would die for your sins too!" Stan paused for a moment, and then responded, "Well how would he die? I sure wouldn't be the one to kill him!"
This little joke touches just the tip of the ice-berg with Stan's theology around Jesus that questioned the standard Evangelical narrative.
But what really made Stan an angelic-troublemaker was that he wasn't afraid of questions and asked big ones himself. He challenged the parts of the church he disagreed with, and his tenacity that helped me to understand what we sometimes call the Quaker "prophetic ministry." And, he spent much of his life working to be an ally to LGBTQ people.
Each story I heard that night among close friends confirmed these aspects of Stan's ministry. People shared how they were atheists and yet somehow they were drawn to Stan and appreciated his care for them. Others talked about how he was there for them as a non-judgmental presence in a time of need. A few shared about how his challenging questions helped to open up a space where they felt safe enough to share deeper hurts with Stan.
It dawned on me during his funeral that I, a 35 year-old, was Stan's pastor. I should say, this man, gave me the opportunity to play this role for him in his last years. When a guy like Stan shows up on Sunday at your meeting and begins regularly worshiping with your community you welcome the honor. His transfer of membership to our meeting was made complete only three weeks before he died. It is an honor to be the meeting who will record his death and send it off to our "yearly meeting."
Stan preached a number of times at our meeting for worship over the last two years (if you are interested, you can listen them here) and the last time he preached on the temptations of Jesus from Matthew 4. During that sermon, when he strayed onto the topic of Satan for a moment he said, "I have some pretty radical views on all of that so I won't talk about that right now…" and he just went on preaching. Are you kidding me?! I love that. "I'm sorry, these views are just too radical, let's keep moving…" And during that same sermon he cussed. I forget what he said but he swore. And to be honest, I was a little ticked that he did it in "my pulpit" before I did!
As you can guess, having grown up in an evangelical Friends culture, many of his views and the cast of characters he was drawn to put him at odds with some segments within that church. For instance, he liked to tell a story about how he met a man from his meeting at a gay bar when he was first a pastor. This wasn't an easy thing for him to do back then, but he did it because he was the kind of person who put love before doctrine, and people before law. I think this is one of the ways he was an angelic-troublemaker, it wasn't just who he supported, it was where he showed up. Who he was present with and where he showed up set Stan a part. He would tuck his body in gears so wheels wouldn't turn. And not just to be a pain in the ass, but because he believed that people mattered most of all.
This is what he said to our church in his last sermon in January:
The most important ministry of the church is to bring comfort and wisdom to those weakened by circumstances and ready forgiveness for those who falter. I believe that really is our mission. -Stan Thornburg
As I looked around the room that evening and saw this small gathering of friends and loved ones gathered to tell their stories and remember Stan something else occurred to me. It wasn't just that these folks all found Stan a safe person, a good friend, and a loyal pastoral presence, but he was someone who stood with them and for them. He didn't pretend to be neutral or err on the side of being nice. He erred on the side of standing with those who needed an advocate, needed a friend, and a pastor. He stood with those who were victims and scapegoats just like Jesus. And beyond this, I really think he saw in each one of those people the possibility that they too were angelic-troublemakers. I think he saw in each one of them the possibility of hope and something new. Like seeds being poured out and new life breaking forth, one man's life touched a multitude who would carry that work on. That story sounds a lot like the Christian faith I have grown to know and love.
I hope someday that I too can be an angelic-troublemaker like my friend Stan.
—