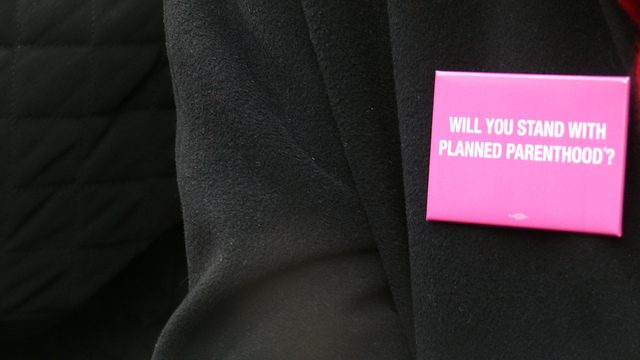 Planned Parenthood is not the problem.
At least, not exactly. The problem is the cultural ideology that we've accepted as irrefutable gospel truth. The ideology that makes itself the arbiter of personhood, categorically dismissing the possibilities of pre-birth dignity. The ideology that celebrates (not just regrettably makes safe) the on-demand choice to end life. The ideology that these bodies, not yet born but obviously and truly human, have no inherent value.
No value, that is, unless you are a research company looking for a "tissue donation", at a price which may or may not benefit the clinic making the transaction, you know, depending on the haggling skills of those involved.
The problem is not an organization though. Not exactly. I see lots of Christians participating in that old knee-jerk reaction to immediately politicize the revelations that have taken place over the last week. To make it all about "Defund Planned Parenthood!" like a legislative "I told you so!" – all while the ideology tightens its grip.
Maybe defunding Planned Parenthood would help. Maybe not. Maybe it will happen. Maybe it won't. I don't know.
But I do know the funding is not the real problem, and neither is Planned Parenthood. At least, not exactly. The real problem is certainly seen in how quick our society is to jump to the defense of this organization, when contrasted with how loathe we are to defend the defenseless. 
And the real problem is how deep that defensiveness goes, how much our minds are held captive.
I kept seeing the defenses across the progressive media last week – It's just medical science! Just because you're grossed out by organ donation doesn't make it wrong! What, are you going to stop scientists from studying adult cadavers too?! It's a marvelous thing, this ideology. It's willful ignorance, a chosen blindness.
It's a lie we all agree to tell, and deep down we even know it's a lie. A lie that would have us make the silly comparison between a cadaver dead by tragedy or circumstance and a baby dead by design.
That would have us celebrate crushed and killed human bodies made to order, you know, for "science."
Planned Parenthood is not the problem. To say so makes superficial what must, finally, now, go deeper. To say so politicizes this, polarizes this, demonizes those who need some of the good services provided, skips over the life-threatening emergencies or criminal tragedies that some abortion procedures regrettably address. Paints good guys and bad guys, heroes and villains, out of physicians, political parties, pundits, and even patients.

But the problem is at the root. The problem is the deception that grips us. The problem, ultimately, is the rulers, the authorities, the cosmic powers and spiritual forces always at war with life, always stealing, killing, destroying. The problem is that empire-urge to make murder a matter of convenience, at any and every stage of human life.
Let's go to that root instead of always aiming at the fruit.
And let's, as God's people, live out a consistent ethic of human life, renewing our own minds by undoing all our death-dealing ideologies, from womb to tomb – in a passionate pursuit of the Lord of Life.