When nothing makes sense, Christmas still does.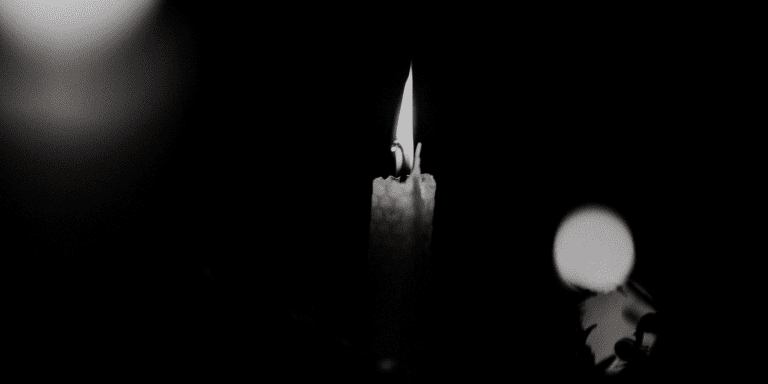 So far in this season of Advent, we've lit the candles of hope and love. But sometimes both seem so impossibly out of reach.
About a year and a half ago, I released a book called The Light is Winning. Strangely, for me personally, the season in which I wrote the book and much of what came after have provided ample evidence to the contrary: that the light isn't, in fact, winning. (This is to say nothing of political events emerging on a larger scale during the same time period!) It's a difficult thing indeed to champion a message that you have yet to fully experience. And it's only been relatively recently that the darkness has begun to recede and blessed clarity and resolution have arrived, allowing some sense of things to be made.
To be sure, all the way through there have been glimmers, foretastes of a flourishing faith and life. But those glimmers have been ensconced in shadows, like the ones cast by the thin Advent candles on my dinner table at night. Such shadowy times are the essence of what Advent means: a dark and tenuous waiting, a lack of clarity in the cloudy space between.
But Advent also heralds the onset of a new time, a new age — a light dawning. For our family devotional on Advent hope, we looked at perhaps the most hopeful passage in all of Scripture, spoken by the greatest Prophet in all of Scripture: Mary's Magnificat. For Our Lady, the confounding nature of the angelic Annunciation must have been overwhelming; and yet in the midst of such a befuddling revelation, she began to see more clearly than ever:
My soul magnifies the Lord,
and my spirit rejoices in God my Savior,
for he has looked with favor on the lowliness of his servant.
Surely, from now on all generations will call me blessed;
for the Mighty One has done great things for me,
and holy is his name.

His mercy is for those who fear him
from generation to generation.

He has shown strength with his arm;
he has scattered the proud in the thoughts of their hearts.
He has brought down the powerful from their thrones,
and lifted up the lowly;
he has filled the hungry with good things,
and sent the rich away empty.

He has helped his servant Israel,
in remembrance of his mercy,
according to the promise he made to our ancestors,
to Abraham and to his descendants forever.
It is possible that the space between, when hope seems so far out of reach, is precisely when the promise of flourishing will grab hold of us, when we will begin to believe the light is winning even though we haven't yet seen it.
And then, we wait.
We lit the second candle on our Advent wreath this past Sunday and talked about love. I wrote previously about how I've come to understand that love is at the core of what it means to believe the light is winning. And in the same way that hope can grip us now, even in the dark space between, when we catch a revelation of what is to come, so can love. Perhaps the darkness is exactly where the deepest experience of love — of God's love for us, of our love for him, of our love for and from each other — can manifest.
John the Beloved was crystal clear in the passage we read Sunday:
Beloved, let us love one another, because love is from God; everyone who loves is born of God and knows God. Whoever does not love does not know God, for God is love. God's love was revealed among us in this way: God sent his only Son into the world so that we might live through him. In this is love, not that we loved God but that he loved us and sent his Son to be the atoning sacrifice for our sins. Beloved, since God loved us so much, we also ought to love one another. No one has ever seen God; if we love one another, God lives in us, and his love is perfected in us.
No one has ever seen God — true enough! And during Advent this is especially pronounced: God's love was revealed in the Messiah Jesus at Christmas, and the Messiah will come again. But now we are waiting.
And in the waiting, all we can do is love. (And if we do, we have God With Us after all.)
Love will bring us to flourishing. Love will usher us into the new day that is dawning and the light that is winning.
May we wait, however dark and cloudy it may be. May we wait in hope, sinking deeper into the depths of love. 
Christmas is coming, after all: and with it, true joy and lasting peace.