But you shall receive power when the Holy Spirit has come upon you; and you shall be my witnesses in Jerusalem and in all Judea and Samaria and to the end of the earth. (Acts 1:8)
Greg Willits and his wife Jennifer, Catholic parents of five children, have been responsible for the distribution of over 2.5 million hand-made rosaries all over the world through their non-profit "Rosary Army." For most busy Catholic families, that would be enough of an accomplishment. But several years ago, they also created the popular (and very entertaining) catechetical video series, That Catholic Show, which skillfully unpacks many of the teachings and practices of the Catholic faith, and is a favorite with parish DREs, catechists, and homeschoolers.
They are also the original founding officers, along with Fr. Roderick Vonhogen, of the cutting-edge Catholic organization, the Star Quest Podcast Network (SQPN), as well as the Catholic New Media Conference (an annual event for podcasters and bloggers), both of which have exploded in terms of their relevance and impact in the realm of Catholic media around the world. And out of their much-beloved "Rosary Army Catholic Podcast" came success with "The Catholics Next Door" radio show on The Catholic Channel (SiriusXM 129) and a book of the same name.
"I've been a glutton for Catholic punishment," Greg says, cheerfully. "Like a lot of people raised in the '70s and '80s with not the greatest catechesis, we are hungry for what we missed out on growing up. I love entertainment, I love television, I love movies. I'm looking for creative ways to provide Catholicism to people in ways they are used to consuming. There is no better message than what we get in the Catholic Church, but we have the worst delivery methods. A lot of those in Catholic new media are trying to rectify that and be a part of that solution."
With six apostolates operating at full speed, he recently built a stylish, user-friendly new website that keeps it all organized under one virtual roof, and adds several new, exciting elements. "New Evangelizers" invites readers to "Know Your Faith, Live Your Faith, Share Your Faith" and offers "Tools and Resources for the New Evangelization."
He explains, "Knowing of the Year of Faith and the need to focus on the New Evangelization, we decided to take everything we've been doing for so many years and make it all more accessible."
The site also hosts a vibrant team of bloggers who explain our Catholic faith and highlight best practices for sharing it with others, and gives away lots of great resources on a page called, "FREE STUFF."
"The first eight episodes of our That Catholic Show series were already available on DVD," says Greg, "and a lot of parishes were asking for it, so they helped support our apostolate. Well, we thought, let's make it even more readily available. Let's give it away! So we replicated and re-mastered the first eight episodes and added a bonus episode about New Evangelization, and we give single copies of the set to whoever asks for it. If they say they need a copy for each kid in their class, we show them how they can buy quantities very inexpensively to give away."
Other free resources include Fr. Leo Patalinghug's audio CD, "Going Out into the Deep," downloads of free audio rosaries, hundreds of hours of podcasts, and all-twine knotted rosaries.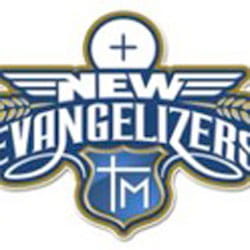 Asked how he and Jennifer do it all, he says, "By the grace of God and the help of a lot of other people. For so many years I felt I had to do everything on my own. When we did the first Catholic New Media Celebration, the conference idea originated in my closet! My master bedroom closet was my office. The huge, seven-foot-tall SQPN banner that hung over the podium was designed in my closet.
"Now I ask for help and if I don't get the help I don't do it. We only take on what we can really handle. Now that our radio show and our book (The Catholics Next Door: Adventures in Imperfect Living) are coasting along, I'm ready to focus on New Evangelization. But we've been blessed over and over again with having good ideas and having people be receptive to them."
When I remark on the "tsunami" of Catholic apostolates online, Greg says, "Tsunami is a good term for it, because a tsunami rises slowly. When we went to the Catholic Channel we stepped down from SQPN. We couldn't do it anymore. A tidal wave rises and crashes. But the tsunami comes in and goes far inland and rises slowly. Because a lot of inroads were made in the early days (of new media), we're seeing how the water went deep into the countryside and watered everything, and seeing the fruit spring up.
12/2/2022 9:05:40 PM