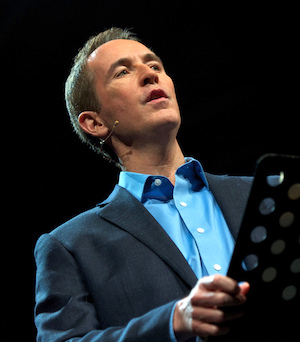 Charles Andrew Stanley (b. May 16, 1958) is the senior pastor of North Point Community Church, a non-denominational evangelical Christian megachurch in Alpharetta, Georgia with several affiliated churches in the greater Atlanta area.

After considering a career as a rock musician and majoring in journalism at Georgia State University, Stanley became an associate pastor and student minister at First Baptist Atlanta, the flagship church of his father Charles Stanley's international evangelical ministry. Though his father was grooming him to take his place at the helm of First Baptist, Andy Stanley left to create his own independent ministry, founding North Point Community Church in 1995. The move led to a dramatic falling-out between father and son.

As of 2017, North Point has expanded to seven campuses in the Atlanta area serving an average of 33,000 parishioners each week, making it the largest megachurch in the United States.

Stanley has been the target of frequent criticism from more traditional voices in the Christian evangelical world, as well as opponents of the megachurch trend. He has frequently spoken against a literalist view of the Bible and the doctrine of hell and in favor of a relaxed approach to sexuality, including same-sex attraction. On February 28, 2016, Stanley fired back at critics of megachurches in a controversial sermon that included this passage:
When I hear adults say, 'I don't like a big church. I like about 200. I wanna be able to know everybody.' I say you are so stinkin' selfish. You care nothing about the next generation. All you care about is you and your five friends. You don't care about your kids, anybody else's kids. If you don't go to a church large enough, where you can have enough middle-schoolers and high-schoolers so they can have small groups and grow up the local church, you are a selfish adult. Get over it. Find yourself a big ol' church where your kids can connect with a bunch of people, and grow up and love the local church. Instead, what you do…you drag your kids to a church they hate, and then they grow up and hate the local church, and then they go off to college, and you pray there'll be a church in their college town that they connect with, and guess what: all those churches are big, the kind of church you don't like. Don't attend a church that teaches your children to hate church."


He later apologized on Twitter, saying, "The negative reaction to the clip from last weekend's message is entirely justified. Heck, even I was offended by what I said! I apologize."

In addition to pastoring North Point Church, Stanley has authored more than 20 books, mostly in the confluence of religious faith and self-improvement.



Patheos on Andy Stanley
PAPERBACK THEOLOGY
PONDER ANEW
NEW WINESKINS
CHORUS IN THE CHAOS
JESUS CREED
Image by Willow Leitungskongress 2012 CC BY 2.0 via Flickr
5/14/2018 1:21:13 PM