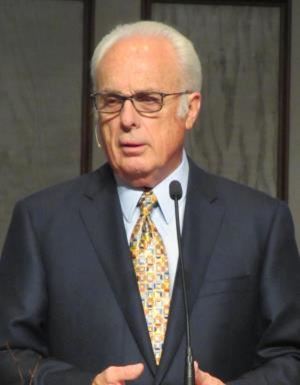 John MacArthur, Jr. (b. June 19, 1939) is a U.S. evangelical pastor, author, and radio evangelist.

After earning a Masters degree in Divinity from Talbot Theological Seminary. Macarthur served as associate pastor of Calvary Bible Church in Burbank, California before becoming pastor of the non-denominational Grace Community Church in the San Fernando Valley of Los Angeles in 1969.

Preaching a strict Calvinist theological message, MacArthur built the small Grace Church into a megachurch with more than 8,000 in weekly attendance by 2008. He developed the Grace to You radio ministry first as a means of distributing his sermons to a larger audience, then as a separate daily ministry program in its own right. The program has now grown to a broadcast audience including listeners in Canada, India, and all of Western Europe.

MacArthur's theology is based in conservative Calvinism, including young-earth creationism and opposition to evolutionary theory, premillennialism (the belief that Jesus will return to Earth to usher in a thousand years of peace), dispensationalism, and the belief that acceptance of Christ as Lord and Savior is a necessary precondition to eternal salvation. He has been critical of modern church movements that take a more universalist approach.

MacArthur is a prolific author with more than 150 published titles focused on Calvinist theology, bible study, and conservative parenting, including strong advocacy of corporal punishment and other aspects of authoritarian child-rearing.

MacArthur and his wife Patricia have four grown children and 15 grandchildren.


Patheos on John MacArthur
ADRIAN WARNOCK
BENJAMIN L. COREY
JESUS CREED
NOMAD
Image public domain, CC0
5/14/2018 1:21:13 PM