By Rabbi Rachel Kahn-Troster -- June 16, 2009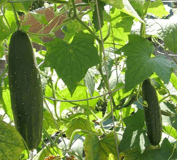 Reverend Robert Jackson is the co-founder of the Brooklyn Rescue Mission, an innovative food program based in Bed-Stuy that combines a food pantry, an urban farm, and a farmer's market to create a healthy, sustainable food system for people in the Bedford-Stuyvesant neighborhood. Urban farming becomes the starting point for empowerment and self-reliance, giving people in the neighborhood the chance to become physically and spiritually healthier.
Rev. Jackson sees three parts to the mission of BRM: creating fresh food, establishing the distribution of fresh food, and helping those who are impoverished by supplying them with emergency food. BRM was a major partner of the Brooklyn Food Conference. I spoke with Rev. Jackson about his drive to bring fresh food to his community.
What inspired you to begin an urban farm as part of your mission?
I started the farm because all the donations we were getting for emergency food assistance had high amounts of sugar and salt, and they were heavily processed. Also, a lot of donated food was older, close or past its expiration date. I made a conscious decision: Am I just putting calories into people or making them healthier? I wanted to do something better. We worked the land over several years to produce a harvest to give the food pantry guests fresh food. But the community around us was also lacking in fresh food and needed the opportunity to buy it.
It's not just low-income communities, but throughout the American food system there is unhealthy food. We don't know what kind of secret ingredients industry has put into food unless we read the labels and even then sometimes you need someone who is really competent to explain, "what is that?" There are things we don't know, because people are not investigating the food system. There's the marketing component also, they can say a food is all natural because a natural chemical has been used to color the food but it has nothing to do with what a cherry looks like or tastes like.
In my area, there are a very limited number of supermarkets or fruit and vegetable stands. There are fewer opportunities to shop for fresh food. We provide opportunities through BRM to buy fresh food. And we use compost for our farm: there are no pesticides, no fertilizers that you don't know what they do to you after you eat them.
What has been the community's reaction?
It's been very favorable. There are many people who say thank you to us for being able to reach out and do this work. We always need more help and assistance. The nature of the current financial climate means that there is always a need to sustain this work.
Have you seen your constituency change because of the recent economic downturn?
There's a greater number of people, and they are more desperate people. More people are willing to wait longer and start earlier.
What values guide your work?
The Bible says, "be fruitful and multiply." We were created to be in the garden, to harvest. It's the nature of humankind to plant seeds and to grow. We should not just grow food but grow spiritually, planting good healthy seeds among ourselves. That's why I'm so excited about farming, it feeds people spiritually. They share a meal, they open up, become talkative, and they share with each other. Good social events have good quality food.
What is the importance of urban farming?
Everyone is excited because of Michelle Obama, the wonderful woman she is, planting the garden in the White House. It brings attention to the people out there doing it already. Now, is it a six-month trend or is this interest in farming sustainable? Do people understand that it is healthier food, it's exercise? There are layers that can come with it; they can use it to teach their communities and children. It should not just be a trend. It could be part of a successful campaign for a long time if people work at it.
What are some steps religious communities can take?
Great question. Religious leaders of all faiths should be conscience of their own community's needs. People are not always willing to share that they are in need of food. They don't want to share that shame. We should start with our own congregations, and then the community around us.
Look at the Old Testament, part of the law was the gleaning cycles, when the poor could show up and glean the leftovers in the fields.
We must remember that they are in all our communities.
At Thanksgiving, when you serve food, you don't need to put out any flyers. People know that they can get fed. People show up by the hundreds, they feed their whole families.
1/1/2000 5:00:00 AM