By Galen C. Dalrymple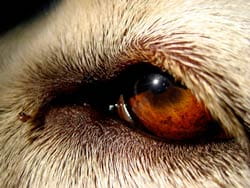 Ramses the Great, Lord of the Nile, the Boxer who lived with my family for a period that was far too brief, loved to watch television.
Allow me to clarify. He loved to watch animal shows on television, especially if those shows featured dogs or wolves, preferably in heroic roles.
In fact, he so loved to watch dogs and wolves on television that he could not simply sit still or recline on the couch and watch it, like a civilized dog. Oh, no. When Ramses sees members of the canine family on television, he leaps off the sofa (yes, we let him on the sofa -- would you refuse the wishes of the great Pharaoh?) and walked straight to the television. He got so close, in fact, that he sometimes set his wet black nose right against the screen. If the wolves are moving across the screen from left to right, he would drag his nose across the glass, leaving a little trail of nose wetness. If they disappeared off the side of the screen, he would walk around the side of the television to see where they had gone.
Ramses does not do anything half-way. To give another example, whenever he lost a rubber chew toy between the sofa cushions, he stood upon the sofa and buried his face between the cushions -- head down, rear in the air -- until he retrieved the toy or someone stopped laughing long enough to help him.
Yep, with Ramses, it was all or nothing. There are several lessons here:
FIRST: Ramses was whole-heartedly devoted to whatever he pursued. He was never lukewarm. What he did, he did with gusto, with every fiber of his little doggy being. Ecclesiastes 9:10 encourages precisely the same thing: "Whatever your hand finds to do, do it with all your might, for in the grave, where you are going, there is neither working nor planning nor knowledge nor wisdom."
SECOND: James 1:25 says, "But the man who looks intently into the perfect law that gives freedom, and continues to do this, not forgetting what he has heard, but doing it -- he will be blessed in what he does." Ramses' intensity and fascination with television animals truly seemed to delight him. We should be as intent in our pursuit of the Word that frees us. Not only does the gospel free us from sin and death, but from a hum-drum, monotonous and meaningless life. The Word is intended to delight us, and we will be blessed by what we see and by taking action on what the Word reveals.
THIRD: It is easy to let the truth escape. Truth can seem to vanish off the "screen" of our lives, just as those wolves marched outside the margins of the television screen. Perhaps we are too content to let it happen. Ramses the Great pursues it. Even if he looks silly, even if others laugh at him, he continues to look diligently. He will even run outside of the house, in his search for what slipped away, and practically drive himself frantic. It is only when he is finally convinced that the wolves are gone that he will finally let it go.
Truth is not always easy to find. A superficial look will rarely suffice. Rather than reclining at a distance and taking the truth for granted, perhaps we need to get our noses as near as possible and pay close attention. As Proverbs 23:23 says, "Buy the truth and do not sell it; get wisdom, discipline and understanding." Whatever it might take to find the truth, it's well worth the investment.
Further installments in the "Lessons My Dog Taught Me" series appear each Monday at the Evangelical Portal.
Galen Dalrymple pastors Vineyard Hills Christian Church, a non-denominational Evangelical church in the wine country of California. His daily meditations, Daybreaks, are received by readers all over the country.
2/8/2010 5:00:00 AM