Fr. Mike Boutin -- March 29, 2010
As he rode along, the people were spreading their cloaks on the road; and now as he was approaching the slope of the Mount of Olives, the whole multitude of his disciples began to praise God aloud with joy for all the mighty deeds they had seen. They proclaimed: "Blessed is the king who comes in the name of the Lord. Peace in heaven and glory in the highest." (from Luke 19:28-40)
Pilate said: "I have conducted my investigation in your presence and have not found this man guilty of the charges you have brought against him, nor did Herod, for he sent him back to us. So no capital crime has been committed by him. Therefore I shall have him flogged and then release him." But all together they shouted out, "Away with this man! Release Barabbas to us." Now Barabbas had been imprisoned for a rebellion that had taken place in the city and for murder. Again Pilate addressed them, still wishing to release Jesus, but they continued their shouting, "Crucify him! Crucify him!" (from Luke 22:14-23:56)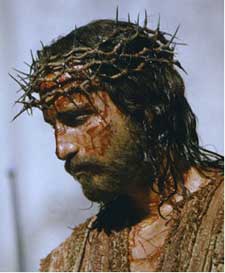 Watch this great YouTube clip based on the movie, The Passion of the Christ, and Sandi Patty's song, "Via Dolorosa," to remember how much Christ loves you...
The crowd gathered to welcome their King into the city of Jerusalem. They waved palm branches and sang Hosanna. Filled with joy, the crowd praised Jesus as their King, and truly gave him a King's welcome. Everyone was there: women, children, old and young men, Jews, Gentiles, the believers, and the curious. They were all there, all singing, all waving their branches and heralding him as King...
Then just a few days later, another crowd: this time, filled with rage, raising their fists to heaven, and screaming with hatred, "Crucify him! Crucify him!"
We delude ourselves if we think that the crowd of people who gathered to herald him as King on that first Palm Sunday was an entirely different crowd than the one that called for his death on that first Good Friday.
Instead, we are forced to reckon with the possibility that some of the same people who waved palm branches and sang Hosanna were also railing against heaven and screaming, "Crucify him!"
That crowd is us... Some days, filled with light, and grace, and love. Some days, we glorify God in Christ in the way we live, the choices we make, and the concern we exhibit for our sisters and brothers.
Then there are those other days when in our sin, and selfishness, and self-righteousness we crucify Him again... and for a moment at least, the darkness seems to win...
But remember this: Christ died for everyone in that crowd: those who loved Him, and those who hated Him. Christ died, out of love for all of us, so that all of us might have life and have it to the full...
On the days when we are holy, Christ loves us. On the days when we aren't, Christ loves us more...
Now pray....
Father Mike Boutin is the co-pastor of the Church of the Blessed Sacrament, Walpole, MA, and travels widely, leading pilgrimages throughout the world to various Catholic religious sites. He is a frequent speaker on liturgy, music, spirituality, and pastoral ministry.
3/29/2010 4:00:00 AM