By Eliav Rodman
In the first years of the State, nearly all Jewish Israelis served in the Israel Defense Forces (IDF). As the security situation in Israel stabilized, religious leaders sought to create frameworks that would allow religious men to combine study at yeshivot (religious academies) with army service. Many of these programs were created because the majority of the army, and its predominant cultural norms, are secular. Thus, religious soldiers in the IDF face unique challenges relating to issues of daily life, such as dress code and food, and religious practice, such as prayer, Shabbat, and holidays.
Hesder and Shiluv: Combining Service and Study

Yeshivot Hesder (arrangement yeshivot) take part in a program -- founded in 1965 -- which allows young men to defer their army induction for a year and a half in order to spend time studying at a yeshivah. After that period at yeshivah, they are drafted into army units designated for observant men from yeshivot hesder. These units are fully integrated into the army's hierarchy.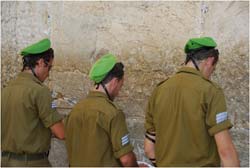 Men serve in these units for thirteen to eighteen months, depending on the character of the unit and the length of training, after which they return to yeshivah. The length of the entire hesder program is five years. Variations on the hesder model exist, and some entail up to seven years of yeshivah study prior to being drafted into the IDF. There are approximately forty yeshivot hesder in Israel today.
The Shiluv (combination) program was started in 1985 by the religious kibbutz movement (hakibbutz hadati), as an alternative to hesder. Shiluv allows young men to combine a full army service term with a first-class yeshivah experience. Shiluv participants spend a year at one of two yeshivot belonging to the religious kibbutz movement before being drafted into the IDF. After a year and a half of service, they return to yeshivah for one additional year, at the end of which they complete a full army service term for a total of three years in the army, and thus the five-year program.
The Ultra-Orthodox and Army Deferments

Ultra-Orthodox men do not, as a general rule, serve in the IDF. The ultra-Orthodox community has relied on what is called the "status quo agreement," struck before the founding of the State, between the religious and secular factions within the Zionist movement. That agreement stipulates that with the founding of the Jewish State, the situation then in existence (status quo ante) with regard to all issues of religion in the public realm must be kept in place. In accordance with this, the Defense Minister has the power, by law, to "dismiss eligible recruits from service for [a number of reasons]." By the power of this law, each Defense Minister has, since the inception of the IDF, dismissed ultra-Orthodox soldiers from service, on condition that they sign a statement confirming that "their Torah study is their work" and they have no other employment. This dismissal was challenged unsuccessfully by a petition to the High Court of Justice in 1982. More recently, attempts have been made to anchor this dismissal in law.
Ultra-Orthodox Men in Uniform

The Nahal Haredi program was developed in 1999 by a group of rabbis in cooperation with the IDF and the Ministry of Defense. It is an attempt to solve the problem of dropouts from ultra-Orthodox (haredi) yeshivot, and at the same time act as the haredi community's contribution to the IDF, thus alleviating some societal pressure to have all ultra-Orthodox men serve. Haredi men who prove unsuited to the life of study in a yeshivah are sent to serve in specially designed units in the IDF. These units cater to the specific needs of ultra-Orthodox soldiers, maintaining cultural and religious standards (no contact with women, Shabbat observance) and offering some help in adapting to life in larger society (e.g., completing high school equivalency). The ultra-Orthodox public has expressed some dismay over the existence of this unit, however, the unit continues to draw new recruits.
Sherut Leumi -- Voluntary National Service

Sherut Leumi (national service), founded in 1971, was originally intended for religiously observant young women as a substitute for military service. Military service is perceived to entail challenges for any observant soldier, and for observant women in particular, specifically in relation to issues of modesty as perceived by the Orthodox world. Today, Sherut Leumi is open to any Israeli, male or female, who does not serve in the army for reasons of health or conscience. There are a number of organizations, recognized by the Ministry of Social Affairs, that coordinate the volunteer activities of participants. Participants must commit to at least one year of full-time service, working for an approved organization. After at least one year of service, participants are eligible for benefits from the State, similar to those given to discharged soldiers.
6/16/2010 4:00:00 AM