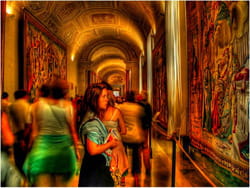 Did you read the interview with the Harvard law professor dying of cancer? Or the daring defense of the Crusades from one of the nation's leading sociologists? Or the extended discussion of whether conservative evangelicals are falling into a version of patriotism that is nothing short of idolatrous? Or the story of the rhythmic gymnast who woke up one morning convinced that God was calling her to leave the Olympics behind?
We are very proud of the articles, columns and interviews that we have featured over the past year. In case you missed some, below are the pieces that garnered the most traffic, generated the most conversation, or offered (in our own humble opinion) the most interesting ideas.
Item of the Year: "You Will Call, I Will Answer." Harvard law professor William Stuntz discusses his terminal cancer -- how he endures the pain, how he regards his coming death, and how he has found peace in the midst of suffering. This, for good reason, has been the single most widely read piece that Patheos has published to date.
Future of Evangelicalism: An extraordinary group of scholars, pastors and writers generously contributed to our discussion on the Future of Evangelicalism. Some highlights:
Religion and Science: The relationship between faith and scientific investigation is a source of consistent concern for evangelicals, and the following were our best reflections on that complex relationship:
12/31/2010 5:00:00 AM