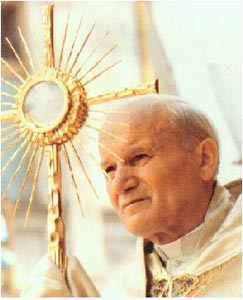 (RNS) Jesse was just 10 days old in November 2009 when he was diagnosed with Herpes simplex, a virus often lethal to a newborn child. Doctors at Children's National Medical Center in Washington, D.C. told his parents that he had no better than a 50 percent chance of surviving, and at most a 25 percent chance of living without severe brain damage.
As the Virginia boy waited for a possible liver transplant, his grandfather started praying to the late Pope John Paul II, who died in 2005 and will be beatified by Pope Benedict XVI on Sunday (May 1).
Practically at once, Jesse's vital signs began to improve. He went off dialysis a few days later, and was released the following month with a clean bill of health, after what the specialist in charge called a recovery of unprecedented swiftness.
The hospital's medical staff hailed Jesse as the "miracle baby."
Jesse's story comes from a new book, The Miracle of Karol, whose recent publication in Italy was timed to coincide with the beatification of the potential Polish saint born as Karol Wojtyla.
Author Saverio Gaeta writes that he culled Jesse's case, along with dozens of other possible miracles attributed to the late pope's intercession, from "thousands" of such stories reported around the world since John Paul's death.
A church-certified miracle—typically defined as a "scientifically inexplicable" recovery from a physical ailment following prayers to a deceased Catholic—is generally required for beatification. (That requirement is waived in the cases of martyrs.) Another miracle, occurring after beatification, is required for sainthood.
"A miracle . . . is like a kind of postmark from God through which he guarantees the sanctity" of those celebrated by the church for their "heroic virtues," says Cardinal Jose Saraiva Martins, former head of the Vatican's Congregation for the Causes of Saints, in Gaeta's book.
In John Paul's beatification cause, the necessary miracle is believed to have come in the 2005 healing of a French nun, Sister Marie Simon Pierre Normand, who had been diagnosed with Parkinson's disease in 2001. According to a Vatican investigation, she quickly recovered from the disease after two fellow nuns prayed for help to John Paul, who had also suffered from Parkinson's.
Various media outlets reported last spring that medical experts had cast doubt on the French nun's recovery—reports that Gaeta dismisses as the "empty clamor of journalistic polemics."
One thing, at least, is clear from the unverified stories recounted in Gaeta's book: when John Paul is declared "blessed" this Sunday, the celebrations will extend far beyond the confines of St. Peter's Square.
Gaeta's book appears aimed at bolstering the credibility of the miracle officially attributed to John Paul, both by offering details of the nun's case, and by sampling reports of other possible miracles collected by the Rome office of the official advocate for John Paul's beatification.
Gaeta, the editor-in-chief of Famiglia Cristiana, one of Italy's highest-circulation magazines, claims to have had privileged access to the advocate's files of letters, many of them left by pilgrims at John Paul's tomb in the Vatican. With the exception of the nun, Gaeta's book provides only the first names of the persons involved in the cases he cites.
Spokespeople for the Archdiocese of Washington and for the dioceses of Arlington and Richmond, Va., said they knew nothing about the case of baby Jesse. A spokeswoman for Children's National Medical Center declined to comment, citing privacy laws.
Gaeta told a reporter he would not divulge the persons' identities unless the postulator's office obtained their permission first.
Among the other stories recounted in Gaeta's book is of a Pennsylvania schoolboy named Luke, who suffered an apparently disabling neck injury while playing lacrosse in June 2005. A neurologist at a Philadelphia pediatric hospital pronounced the boy in good health three days later, after a friend of his grandmother prayed to John Paul.
A spokeswoman for the Archdiocese of Philadelphia wasn't available for comment or verification of the boy's story.
Gaeta also cites a Catholic man in an unnamed U.S. city, who asked for John Paul's intercession and promptly recovered from cirrhosis of the liver.
Intriguingly, the book also mentions that John Paul's beatification cause involved an official church investigation in New York, held to "take the testimony of an American citizen." Gaeta said the confidential nature of his sources prevented him from specifying the investigation's purpose.
4/28/2011 4:00:00 AM