Writing recently about Dean Koontz's Odd Thomas series made me wonder what sorts of fiction other Catholic authors are writing now. I am happy to report that if you're looking for fun summer reading, there is a lot of good fiction to choose from. Some of these stories are more explicitly Catholic than others, but all have a grounded worldview from authors who know their faith. Should you happen to become a bit more enlightened while being entertained, that's just a side benefit.
Death of a Liturgist
by Lorraine V. Murray
This cozy mystery explores what happens when bringing a traditional parish "up to date" goes too far. St. Rita's new priest, Father Bunt, has a lot on his mind, so he hires a liturgist to take some of the load off his shoulders, giving him carte blanche for six months. When updating goes so far that Stations of the Earth replace Stations of the Cross, someone at St. Rita's feels homicide is justified. Widowed parishioner Francesca Bibbo can't resist the urge to do a little sleuthing, even though it may upset her new boyfriend, Detective Tony Viscardi.
Lorraine Murray has a lot of fun showing just how far modernization may go before it drives someone to murder. Francesca does seem to have a bit of a problem in thinking that every man who wants to go to dinner is asking for a date. However, this leads to some self-discovery, so it was a forgivable character flaw. I not only thoroughly enjoyed the parish and characters, but this mystery had me buffaloed right up to the very end. Death of a Liturgist is a light tale but one that touches on issues that have many Catholics up-in-arms today, and Murray makes several key points worth considering, as the reader is swept through this intriguing mystery.
Death Panels
by Michelle Buckman
This tale is of a dystopian future where physical perfection is thought to be the only good, imperfection is thought to cause unendurable suffering, and Christians live on reservations after violating "tolerance" acts. Our hero, David Rudder, has left the Cloistered Dominion reservation where he was raised to see what the modern world is like. When he rescues a newborn with Down Syndrome who has been scheduled for termination, David sets off a chain of events that sends him on the run from the authorities and which ripples through society in ways no one could predict.
As with any good futuristic novelist, Michelle Buckman has taken certain aspects of modern society and imagined what happens when they are carried out to a logical, extreme conclusion. Where this book comes alive, though, is in the well-drawn characters; I was literally on the edge of my seat wondering what would happen to many of them. Interestingly, for a novel by a Catholic author with a pro-Christian, pro-life message, Buckman never defaults to a deus ex machina. Many of the heroic figures are not religious at all. The people are shown in all their humanity, both good and bad, which is the big strength of the novel.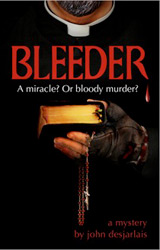 Bleeder
by John J. Desjarlais
Reed Stubblefield is recuperating from a debilitating injury, and is traumatized by his wife's recent death. Retreating to his brother's cabin in a small town to write a book, he is immediately plunged into local controversy. Is the local priest a stigmatic who heals with a touch? If a disconnected phone rings, is it a miracle? Is the local Hispanic community up to no good? When the priest is murdered and Reed is the prime suspect, he must look for answers to these questions and more to find the real murderer.
John Desjarlais has a deft touch. I especially liked Reed's skepticism about healing powers and his ambivalence toward religion in general, which serves to strengthen the conversations revolving around those issues. The mystery grabbed me by the throat with the pace slackening only for occasional philosophical conversations, which last just long enough to give me something to think about later.
:::page break:::
6/8/2011 4:00:00 AM