Now Featured in the Patheos Book Club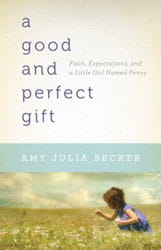 A GOOD AND PERFECT GIFT: Faith, Expectations and a Little Girl Named Penny
By Amy Julia Becker
A Good and Perfect Gift is a spiritual memoir that chronicles Amy Julia Becker's journey through her daughter Penny's first years of life. Top of her class at Princeton, Amy Julia Becker always imagined that her children would turn out just like her. So when her daughter Penny entered the world with Down syndrome, Becker had to rethink everything.
Beyond tackling the day-to-day whirlwind of doctor visits, child development experts, insulting comments from well-meaning friends and even her own prejudices, Becker comes face to face with terrifying emotions. Worry that Penny would die early or that she wouldn't be able to live on her own. Sorrow over the thought that Penny might not know deep love from another person. And her darkest fear, that Becker herself wouldn't know how to love her daughter.
But love-love from Penny, love from her husband, love from friends, and love from God-finds a way to pick Becker up out of her fear and into faith. Instead of being a parent crippled by control and expectations, she finds freedom and joy in loving Penny and watching her thrive in who she was perfectly created to be.
A GOOD AND PERFECT GIFT is more than just a narrative that spans the first two years of Amy Julia Becker's new life with Down syndrome. From the initial dark moments in the hospital to the light and laughter Penny brought into the family, it is a story of a remarkable little girl who surpassed expectations. It is the story of a young couple coming to terms with their first-born child being different than they anticipated, and eventually receiving that child as a precious gift. It should appeal to any reader who wonders how grief can be transformed into joy.
Read an excerpt from A Good and Perfect Gift here.
About the Author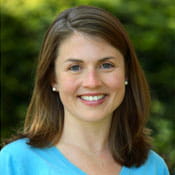 Amy Julia Becker is the author of Penelope Ayers: A Memoir, which critic Andy Crouch included in his list of the best books of 2009. She graduated from Princeton University and Princeton Theological Seminary, and writes regularly for Motherlode, the parenting blog of The New York Times. Her essays have appeared in First Things, The Philadelphia Inquirer, The Christian Century, ChristianityToday.com, Bloom, Patheos and other venues, and she blogs at Thin Places. Julia lives in Lawrenceville, New Jersey, with her husband and three children.
Read a Q&A with Amy Julia Becker at the Patheos Book Club here.
9/16/2011 4:00:00 AM