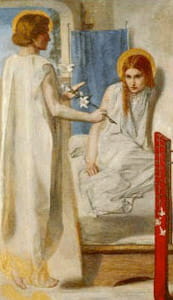 The Annunciation, Dante Gabriel Rossetti, 1849-50
I love words. It's an occupational hazard, I guess, when you spend your life around them. I love the look of them on the page, the feel of them in your mouth, the way they can jumpstart us into awareness and action.
And I love how, sometimes, words can change the world.
Topsy-turvy. That's the word that came to me as I was thinking about the Annunciation, one of the most familiar stories from the Bible, often painted or immortalized in stained glass, a central part of the Christian mythos, and so a story that we may have prettified out of meaning.
Topsy-turvy. It means turning things upside down, the inversion of the normal order, the upsetting—or overthrowing—of all that has been in place.
And today when we remember the story of the Annunciation, I want you to remember that word: topsy-turvy. Old things being made new, things being turned upside down, all that has been being replaced by all that will be.
Most of the paintings of the Annunciation make the event seem frozen in time, predestined, something that has already happened. They show us a pretty girl—or woman, even—her countenance peaceful, dressed regally in radiant blue.
This Mary greets her angelic visitor stiffly, as though she is already the Mother of God, as though she has already been a million times painted and printed and carved and adored.
All of these paintings—some of them quite famous and quite good in their own way—treat the Annunciation as a foregone conclusion.
That's why I love The Annunciation painted in 1850 by the Pre-Raphaelite painter Dante Gabriel Rossetti. In his painting, the girl Mary, spindly-armed in her narrow bed, cowers against the wall as Gabriel, the angelic visitor, extends a lily to her.
When I see Rossetti's painting, it becomes possible again for me to imagine that teenaged girl in 1st-century Palestine, promised to an older man in marriage. To imagine Nazareth, a small backwater town, in Galilee, a backwater province. To imagine the life of poverty and backbreaking labor that both Mary and her betrothed had always known, and would always know.
And then, suddenly, this being appears to her, this poor girl in a broken-down world who hears from this marvelous stranger: "Good morning, you who have received God's favor!"
The text tells us that these words troubled or distressed her. Who was this man—or this being—and what did he mean by God's favor?
Couldn't he look at her—at this house, at this town, at this whole backward province—and see that God's favor was obviously flowing elsewhere?
But as she recoils in fear and surprise and confusion, he is still talking. He is telling her that God is ready to move in the world in a new and powerful way, that because she has found favor in God's sight, she will bear the Son of God, who will be called Yeshua—or, as we know him, Jesus.
And here at the Child of God part, Luke tells us, Mary reaches a logical objection. Just before the story of the Annunciation, Luke tells another story about a person who is informed by Gabriel of a miraculous birth. But unlike Zechariah, the elderly priest who is the husband of her cousin Elizabeth, Mary doesn't demand proof. No, her reaction is simple puzzlement: Mary knows where babies come from, and she has not satisfied the requirements for having one. So how is this going to happen?
Whether you choose to embrace the virgin birth of Jesus as a literal truth or as a life-giving metaphor, it's clear that the writer of the Gospel of Luke wants us to understand that the child of Mary's womb, Jesus, is someone destined for great things, someone unlike anyone who has walked the earth before.
The angel Gabriel is telling Mary that if she agrees, God is going to do a new thing, begin a new act in the story of creation.
If Mary just says the words, the world will be turned topsy-turvy.
Have you ever had that feeling that you were being called to something, being pulled in some direction? There have been times in my life—not many, but definitely a few—when I have had the feeling I was being asked to do something. Not something on this cosmic scale certainly, although they were things that would shake my world.
12/22/2011 5:00:00 AM