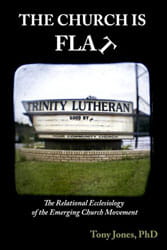 The Church Is Flat: The Relational Ecclesiology of the Emerging Church Movement, by Tony Jones, is the first significant, researched study into the ecclesiology of the emerging church movement. Research into eight congregations is put into conversation with the theology of Jürgen Moltmann, concluding with pragmatic proposals for the practice of a truly relational ecclesiology.
Jones visited eight emerging church congregations (Cedar Ridge Community Church, Pathways Church, Vintage Faith Church, Journey Church, Solomon's Porch, House of Mercy, Church of the Apostles, and Jacob's Well), facilitating interviews, focus groups, and surveys.
After interpreting the data, Jones pulls out the most significant practices of these congregations and judges them relative to the relational ecclesiology of Jürgen Moltmann. Finally, Jones proposes a way forward for the emerging church movement, and the Protestant church writ large.
"Tony Jones provides an insider's perspective on the definition, growth, and ongoing challenges of the Emerging Church Movement. In classic Jonesian fashion, you'll find savvy writing that combines theology, close observation, and a healthy dose of opinion. Jones takes us back through the history of the movement's development, but the true significance of the work is how Jones pushes the movement forward, urging these religious innovators to clarify an ever more nuanced 'relational ecclesiology' that critically considers the role of scripture, tradition, and experience. He believes he's found the key to revitalizing Christianity for the coming century—It remains for the rest of the church to see if he's right."
—Gerardo Marti, L Richardson King Professor of Sociology, Davidson College
"Any serious student of, or participant in, Emergence Christianity is going to rejoice in the work contained here. Jones's hard-core research is scholarly to a fault; but it is also permeated with the experiential knowledge and realistic assessment of one who has been in the movement from its inception in this country. So far as I know, this is the first vetted, validated, and comprehensive overview of what is happening and also of what that happening means, complete with a sizeable section of summary full of practical advice and pointers. This is one piece of work that everybody in Emergence Christianity needs urgently to read now as a way of charting not only where Emergence is, but also where it has to go and is going. A brilliant academic tour de force with enormous applications for lay reading and praxis."
—Phyllis Tickle, author of The Great Emergence: How Christianity Is Changing and Why
"I had hoped to devote 30-45 minutes to a rapid skim of Tony Jones's new book, The Church Is Flat. I looked up at the clock and two hours had passed. Now, after five hours, I can tell you that this book is as well-written as it is content-rich. You'll gain substantive insights into the emerging church as a new social movement, scholarly reflection on the theory of practices, and critical engagement with the panentheist social trinitarianism of Jurgen Moltmann - all turned toward a practical theology of the church."
—Brian McLaren, author of Naked Spirituality
About the Author

Tony Jones, M.Div. (Fuller Theological Seminary), Ph.D. (Princeton Theological Seminary) is the theologian-in-residence at Solomon's Porch in Minneapolis. He has written many books on spirituality, ministry, and the emerging church movement, including The New Christians: Dispatches from the Emergent Frontier. Tony has worked at several churches, a mission agency, and served as the national coordinator of Emergent Village for several years. Currently, he is a writer and small business owner, running events and social media training for church leaders. He blogs at Theoblogy here. Tony lives in Edina, Minnesota with his wife and three children.
Buy the Book Here:
1/3/2012 5:00:00 AM