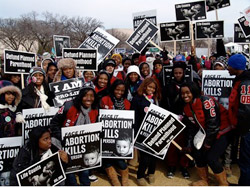 Last fall I wrote about attending a Pro-Life Action Ministry (PLAM) dinner at which Abby Johnson gave the keynote address. She is the former Planned Parenthood director now pro-life advocate who wrote the book, Unplanned. In addition to her wonderful presentation, other speakers were part of the program. With the 39th anniversary of Roe v. Wade upon us this Monday, I'd like to share another story from that evening, one that touched us deeply.
Former local TV reporter Kalley Yanta emceed the event, and she told a remarkable story. After a 10-year hiatus born of frustration and too many encounters with ugliness, Yanta decided in January of 2011 to return to sidewalk counseling. She prayed, "Okay Lord, I have a better perspective now, and I'm going to go back out there for you now—I'm not expecting warm fuzzies like I did years ago, because I know I'm not going to get them—but I want to do this for you."
Going out to the sidewalk on a brutally cold day, bundled up against the snow, she felt that ugliness return. She thought, "Oh man, I didn't know I would feel this way again, I hate this place—I don't want to be here! Lord, you are going to have to help me, because anything that comes out of my mouth is going to be wrong, and I feel totally inept. Empty me out, and fill me up so that anyone who drives in here will see you—not me, and everything will be okay."
As the first couple drove up she felt, as she described it, a "whoosh of joy" filling her up that she could only explain as being from the Lord. She smiled at them, and felt truly happy to see them. Yanta signaled for them to roll down their window, and then handed the driver—the boyfriend—a model of a 12-week old fetus. He passed it to his girlfriend, who gasped: her baby was twelve weeks along.
At that point, Yanta introduced to the audience this young woman and her sweet little 3-month-old daughter. The new mother took over the story from there. She said it was so cold and snowing, and she didn't expect anyone would be there in that weather to say, "Do not kill your baby."
She said, "I made up my mind not to do it, but my boyfriend was still insisting. Today we are not together, because he chose death for her, and I chose life."
Yanta had given her the PLAM pamphlet, which alone made her change her mind. She had felt hopeless and alone, and hadn't known where to turn, but all she had needed to hear, she said, was, "You are not alone—people are here for you."
Interestingly, the young woman related that—although she knew that Kalley Yanta was a woman—her voice on that day in January had come out like a man: "She sounded like Jesus --so soft and kind!" This is quite humorous because Kalley's true voice sounds nothing like a man, but her point was that she had heard the voice of the Lord speaking to her. We could hear in her own voice the emotion, joy and gratitude that she felt that God had put Yanta there for her and her daughter.
Those who are pro-abortion think that we pro-lifers are busybodies who should mind our own business. I am passionately pro-life because it is personal to me—I myself was advised to "terminate" a pregnancy; people I love have felt social pressures due to their choice for life—but also because I simply believe that choosing life is right and because I am a person of faith. That is why I am involved and peacefully praying in front of abortion centers.
Over the years, several friends have shared their abortion stories with me; they reveal themselves unexpectedly, and I am always surprised that they feel they can confide in me, but thankful and humbled by their trust. Often these conversations happen when you least expect it, and sometimes the abortion took place many years ago, but the pain is obviously still there. Some women try to move on—to tuck their abortion far away in the back of the mind, but it never leaves. Only a couple of months ago, a friend spoke to me of an abortion she'd had twenty-five years ago, and I still could hear the sadness in her voice. I can't remember how the subject even came up, but even after all that time it was still such a part of her that she needed to talk about it. I have listened to, held and cried with so many friends. I always tell them that God's love for them and his divine mercy is beyond our human comprehension.
1/20/2012 5:00:00 AM