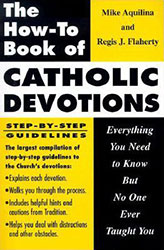 Mike Aquilina, The How-To Book of Catholic Devotions
Aquilina offers step-by-step guidelines to all the Catholic devotional rites and rituals; a history of each devotion and a reflection of its importance in prayer life; succinct quotes from saints and prominent Catholics; cautions for potential temptations and distractions; and the blessings and graces associated with the devotions.

Dr. Gregory Popcak, Holy Sex!
This practical sex guide incorporates, but goes well beyond, marital sacramental theology, and as such will be welcomed by those who want to adhere to Catholic teaching yet still enjoy the passion of sexual union. Psychotherapist Popcak spends most of the book elaborating on the Catholic view of sex, citing various church documents and the writings of Pope John Paul II. He explains why sex is holy, how it differs from eroticism, and why it is intended solely for one man and one woman who are married to each other and open to having children. In covering what he calls the good stuff, Popcak says restrictions are few.

Caryll Houselander, The Reed of God
First published over half a century ago, Caryll Houselander's The Reed of God has become a spiritual classic. Houselander depicts the intimately human side of Mary, Mother of God, as an empty reed waiting for God's music to be played through her. She shares her insightful vision of Mary on earth, Mary among us, Mary as a confused but trusting teenager whose holiness flowered with her eternal "Yes."

Mark Shea, The Heart of Catholic Prayer
Mark Shea weaves the contemporary with the historical and the theological with the practical as he opens up these most common of prayers with a fresh perspective. Experience the ordinary truths of the Faith that the Church has always taught, but in ways that will generate a spark of recognition in the contemporary mind.

G.K. Chesterton, Orthodoxy
This quirky, slender book describes how Chesterton came to view orthodox Catholic Christianity as the way to satisfy his personal emotional needs, in a way that would also allow him to live happily in society. Chesterton argues that people in western society need a life of "practical romance, the combination of something that is strange with something that is secure. We need so to view the world as to combine an idea of wonder and an idea of welcome." Drawing on such figures as Fra Angelico, George Bernard Shaw, and St. Paul to make his points, Chesterton argues that submission to ecclesiastical authority is the way to achieve a good and balanced life. The whole book is written in a style that is as majestic and down-to-earth as C.S. Lewis at his best.

Fr. Dwight Longenecker, Catholicism Pure and Simple
Catholic faith doesn't have to be complicated.
Longenecker shows how it can be Pure and Simple. Starting with arguments for the existence of God, without using churchy language, difficult theological concepts, or confusing arguments, this book takes the reader step by step through the basics of the Catholic faith and how to live that faith in the modern world.
:::page break:::
9/19/2013 4:00:00 AM