Editors' Note: This article is part of the Patheos Public Square on the Future of Faith in America: Eastern Religions. Read other perspectives here.
The Sikhs have a long and rich tradition in the arts. The founder of the faith, Guru Nanak, composed his own poetry, and he would share his writings publicly by singing them with musical accompaniment. His followers carried on and broadened the practice of artistic expression, from the calligraphic to the architectural, from the literary to the martial. The Sikh tradition, which now includes nearly 30 million followers worldwide, has continued its artistic efforts over the centuries and spread across the globe, and we are beginning to see a renaissance of Sikh art here in America.
When Sikhs first moved to the U.S., it was difficult to rely on the arts as a means of establishing financial stability. It takes immigrant communities a generation or two to establish a firm enough footing in diaspora contexts, and the same has been true in the story of Sikh Americans.
The first several waves of Sikh immigration to the U.S. brought in people of diverse professional backgrounds. The earliest immigrants in the late 19th and early 20th centuries engaged largely in blue-collar work, such as working in agriculture or building railroads. Later in the 20th century, immigration laws opened up to encourage trained professionals to come to America. And in the 1980s and 1990s, a large number of Sikhs immigrated to America as a way of seeking refuge from persecution by the Indian government.
While each wave of Sikh immigration had its own particularities, the Sikh community worked tirelessly to realize the American Dream and to build a new life for their families. Now, in the 21st century, we are beginning to see the fruits of their labor.
Sikh Americans are engaging in the arts more than we have ever seen before. From fashion to film, music to comedy, young Sikh artists are emerging and making a name for themselves in their own respective fields. A number of these individuals bring with them their own unique experiences, which reflect the multiple identities embraced by Sikh Americans. Complementing the surge in Sikh artists, the Sikh community is also seeing an increase in patrons eager to commission and buy Sikh art.
Although Sikh American art is at a nascent stage, it is an expansive category that draws from a long and storied tradition of Sikh artistic expressions. It has a bright future as part of the rich Sikh American experience.
Here is a short introduction to two emerging visual artists whose pieces reflect on diverse, Sikh-related themes.
Jagdeep Singh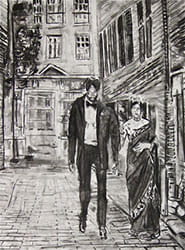 Currently an MFA student in the department of Painting at the Rhode Island School of Design, Jagdeep's current body of work deals with using archival materials consisting of personal and historic photographs to explore issues of identity formation among Sikhs within the broader South Asian diasporas throughout cities and towns in the Americas.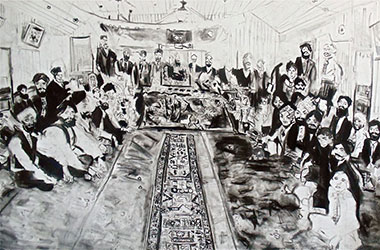 Jagdeep seeks to resurrect these materials by constructing large-scale mixed media drawings. His drawings portray landscapes, private interiors, Sikh temples, and the domestic lives of Sikh families. A meticulous selection of film stills and photographs are resurrected and transformed in his drawings to appear distorted and out of focus. This renders a sense of familiarity yet remains foreign at the same time and speaks to the marginalization of Sikh communities in Canada, the United Kingdom, United States, and even the states of Punjab and Kashmir, India.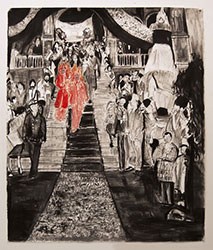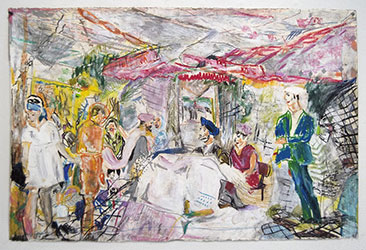 Rupy C. Tut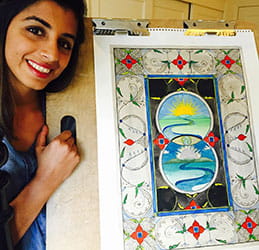 Rupy C. Tut is a San Francisco-based Sikh visual artist who started her professional journey exploring themes of identity and displacement through her paintings. Her art depicts the decorative Mughal Miniature style and Calligraphy in English as well as Gurmukhi. Currently, her work is intertwined with Sikh-related themes as she explores the imagery evoked by the Sikh scripture, the Guru Granth Sahib. By building on verses from the Guru Granth Sahib with visual metaphors and calligraphy, Rupy aspires to produce a visual message in addition to a linguistic one.
11/7/2022 8:18:35 PM