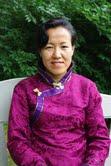 Kunsang Dolma, author of Wisdom Publications' new title A Hundred Thousand White Stones: An Ordinary Tibetan's Extraordinary Journey, has a new piece published at Phayul on "the seven worst excuses for ignoring women's rights." It's definitely one you must read — a personal and powerful piece of writing. Here's just a taste:
We have had enough of excuses and delays, we need to move forward. When we move forward with women's rights the entire community will gain from it. Women's rights benefit the community by building strong families and strong mothers, leading to a strong future for all Tibetans. The struggle for gender equality is not a form of gender conflict. By working together for women's rights, Tibetan men and Tibetan women can make our great culture even better.
Take a look at the rest right here.