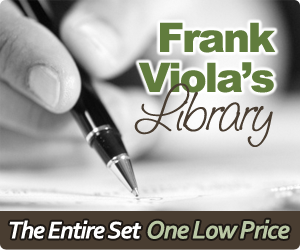 Frank Viola's Library includes the following 8 books:
Pagan Christianity (paperback) rocked the Christian world in January 2008. It hit #11 on Amazon.com, and over 100,000 copies have been sold. Yet it was only the first half of the argument. It was never meant to be a stand-alone book.
Reimagining Church (paperback) released August 2008. This is the companion volume to Pagan Christianity. Pagan Christianity deconstructs while Reimagining Church constructs. The two books go together.
From Eternity to Here (paperback) released March 2009 and hit the CBA bestseller list. This book gives the big picture, unveilng the grand mission of God in the earth. A unique and powerful contribution to the body of Christ.
Finding Organic Church (paperback) made its debut in September 2009, hitting #12 on Amazon.com. This is a practical guide to planting, sustaining, and finding organic expressions of the church.
The Untold Story of the New Testament Church (paperback) has been hailed as a masterful work in narrative ecclesiology and one of the most helpful New Testament guides in print.
Jesus Manifesto (hardcover) released June 2010, reaching #6 on Amazon. A manifesto exalting and revealing Jesus for the 21st century.
Revise Us Again (hardcover) released in April 2011 and is being regarded as a fresh and needed approach to spiritual transformation.
Jesus: A Theography (hardcover) released October 2012. Tells the Jesus Story uniquely from Genesis to Revelation, connecting all the dots from the Old Testament to the New.
Endorsements by Matt Chandler, Ed Stetzer, Shane Claiborne, Ed Young, Mark Batterson, Jack Taylor, Calvin Miller, Reggie McNeal, Greg Boyd, Michael Spencer, Francis Frangipane, Scot McKnight, Steve Brown, Myles Monroe, Leonard Sweet, Dan Kimball, Alan Hirsch, Robert Banks, Howard Snyder, Andrew Jones, James Goll, Ralph Neighbor, DeVern Fromke, Don Francisco, Wolfgang Simpson, Jon Zens, Hal Miller, and others. If you would like details on each title, how to buy them on Audio and Kindle, or view bulk discounts for a specific title, click here.
Retail Cost for All 8 Books = $128.00
Your Price = $70.00
Frank Viola's Library
---
IMPORTANT: If the order goes through, you will receive an email receipt. If you don't receive an email receipt, it means the order wasn't completed. So re-do.
Please follow these directions carefully. We suggest you print this out so that you can read it and follow it step-by-step.
1.) Click the "Buy Now" button for the book you want.  
2.) You will be taken to the shipping menu.
3.) Find your country in the drop down menu that says "Select Country." If you live in the United States, for instance, select United States. If you live in Puerto Rico, select Puerto Rico. If South Africa, click that. Brazil, select Brazil. If you live in the Philippines, select Philippines.

4.) Skip the state dropdown menu if you don't live in the States or Canada. If you live in the States, select the state. If you live in Canada, select the province.
5.) Type in the postal or zip code. South Africa is a 4 digit code. Others have 5 digits. 
6.) Click the "add shipping" button.
7.) You will see your shipping options. Click on the one you want.

8.) Follow ALL directions carefully.
9.) On the "Payment Options" page, Paypal is the payment service we use for handling ALL credit card purchases. If you have a Paypal account, use the right side "Option." If you wish to use a credit card instead, use the left side "Option." Fill out ALL information and complete the order. Receipt of confirmation will be sent to your email address. It's that simple.
IMPORTANT: You will receive an email receipt if the order goes through. If you do not, follow these steps again.
Click here if you live in the USA and you wish to order by check or money order.