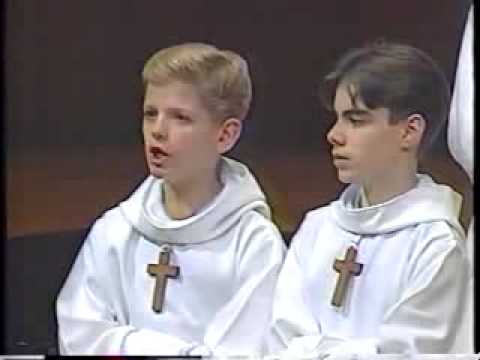 This wonderfully amusing video is making the Facebook rounds, and since it showcases not only talent but humor, I thought I'd share it with you.
It appears that this is performed by Les Petits Chanteurs A la Croix De Bois, or The Little Singers of Paris, one of the most famous children's choirs in the world. The choir was started in 1906, when two young students, Pierre Martin and Paul Berthier (Father of the composer Jacques Berthier and grandfather of France Gall), were on holidays in the abbey of Tamié in Savoy and decided to "create a children's master's choir which would go from church to church, from city to city, to carry the living testimony of the magnificence of the religious music."
Today,  a hundred children live in a friendly boarding school environment, sharing their time between the school work defined by the official programs, the music and vocal education. The choir travels more than 30,ooo miles a year, performing for 50,000 people.
I haven't yet tracked down when this was actually performed or who the boys are. But the piece in this video, while amusing, is actually a classical piece of music called Duetto buffo di due gatti, or the Cat Duet. According to the website ClassicalArchives.com:
"Though scored for two sopranos and piano, the work exists in orchestral versions and has been sung by male-female pairs and even as a tomcat duet. The text consists in its entirety of the single word 'meow'" and singers treat the melodies basically however they want to. The origins of this work are cloudy, but historians agree that it is not an authentic work by Rossini. It does, however, contain a good deal of Rossini's music, so the attribution is not completely off the mark."
So look at that – you (and hopefully your cat!) had a giggle and learned something about classical music at the same time!