How ironic is it that families who survived the bloody ethnic was of the 1990s have lost their homes to an act of nature twenty years later?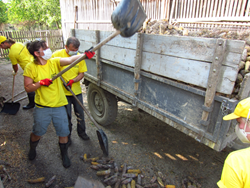 May saw the worst flooding in Balkans recorded history. That is a terribly clinical statement. But its effect on hundreds of thousands in the religion is anything but.
Scientology Churches throughout Europe have been backing the relief effort. Volunteer Ministers are in Bosnia and Herzegovina helping families salvage what is left of their homes so they have the option to rebuild.
The priority is to get enough work done before the winter sets in.